Becka Palter was the first professional model hired at LBD. She is very close to our LBD family- she not only models for us but she also used to ship all of the packages out and answer your emails. She represents all of the LBD values and she is the roomie of our Product Designer! Her two passions are animals and being woke.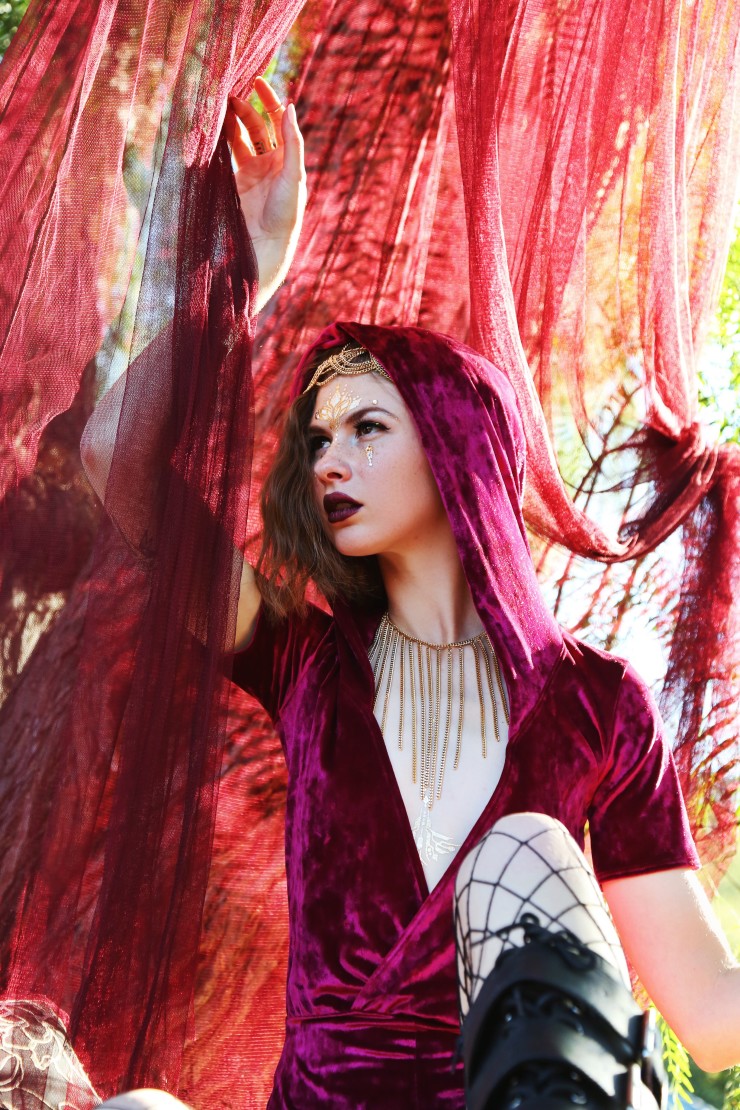 What drew you to modeling originally?
I've always wanted to model. I watched ANTM growing up and practiced smiling in the mirror every time I got ready. But it wasn't until I moved to San Diego that I decided to fully embrace working towards becoming a model. I love inhabiting a character, using my face and body to tell a story in one still image.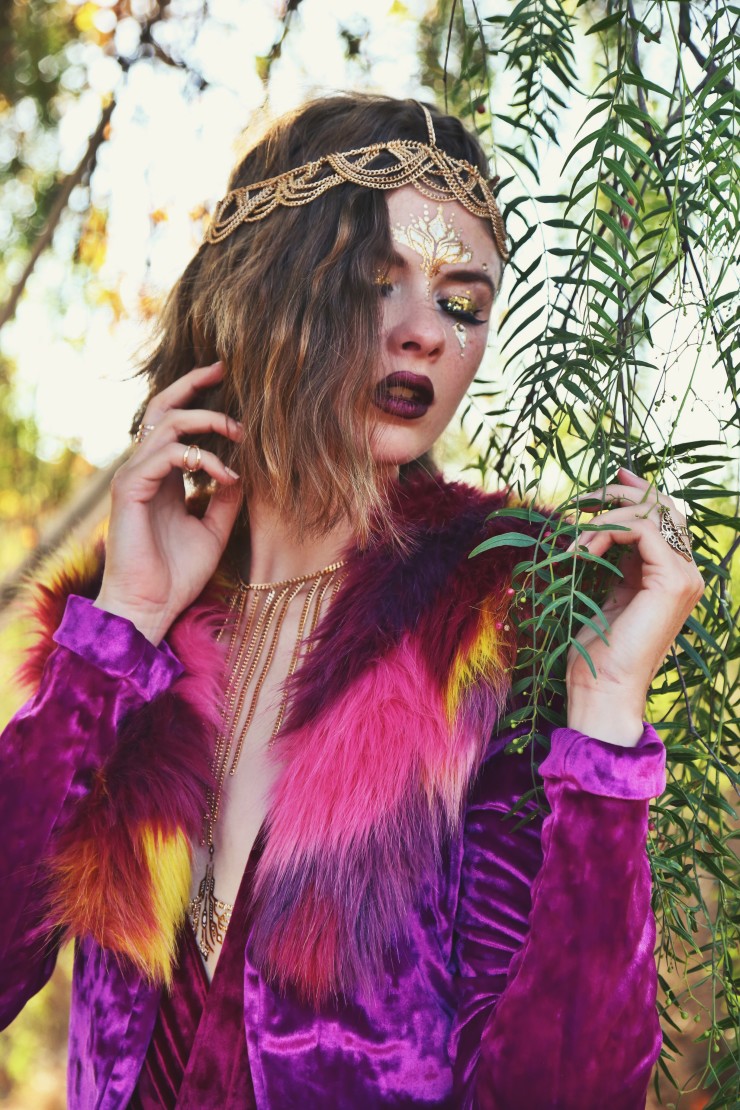 Check out the ultra soft crushed velvet Shag Jacket in Amethyst >>>
Can you talk to us a little bit about staying resilient and/or overcoming the negative aspects of the modeling industry in relation to body image and promoting body positivity?
I've never really experienced negativity from the people I've worked for, if there are jobs that didn't like my look, I just wouldn't get the job, and that never bothered me. The only times I've been really upset is when followers comment on pictures of me online with assumptions about me.
My entire life I'd heard the fake body positive messages like; real women have curves, only dogs like bones. For a long time I repeated these messages, until I realized that I was basically talking shit about myself. As women we are so often compared to the woman standing next to us. We are told that there is only room for one girl in the room so you need to either fight for that spot, or step back and let someone more "womanly" take it. Well I refuse to do either.
All bodies are good bodies and I'll keep yelling it from the rooftops until it resonates through all of us.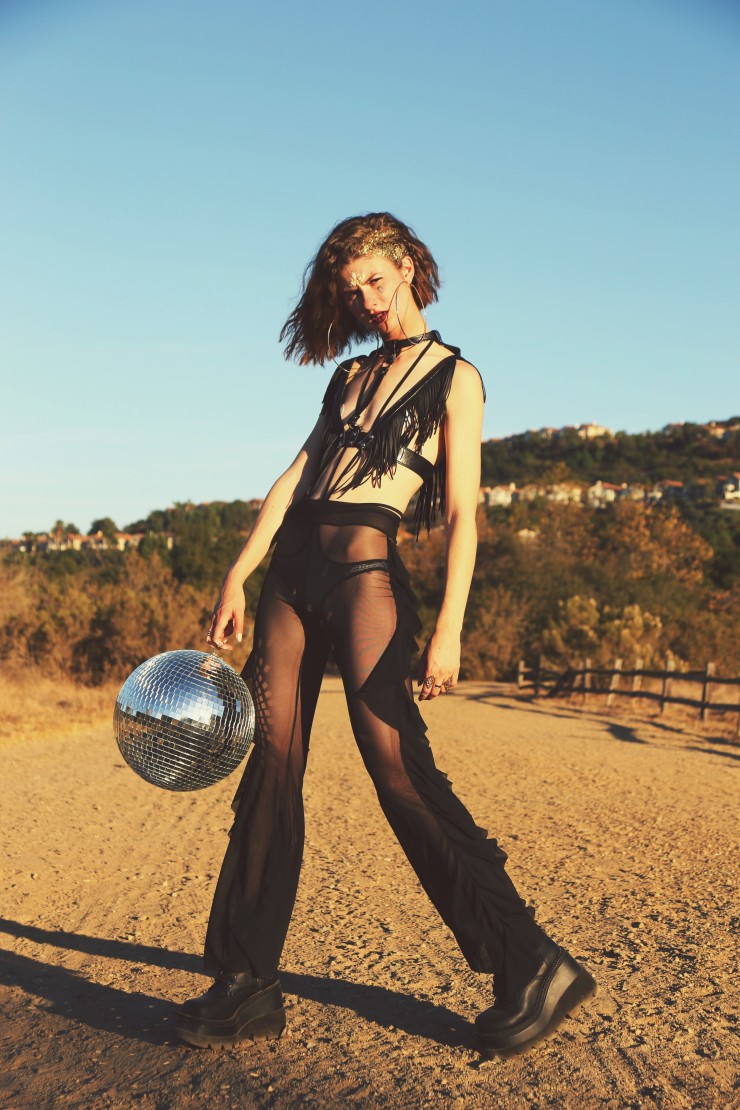 Breathable, comfy, and adorable, the Black Mesh Illusion pants are back in stock! >>>
You seem to use your social media as a platform to express your voice on a lot of different topics. What are some messages or causes that you are passionate about spreading to people? How do you decide what you want to say with your posts?
When I first started caring more about my instagram presence I thought about narrowing my message to try to gain more followers, but then I decided that I didn't really care. I have a lot to say about a lot of different topics and if you follow me you're probably going to hear a pretty unfiltered opinion on those areas. Probably the most important are equality across the board, reducing the stigma of mental health problems, and not being a jerk.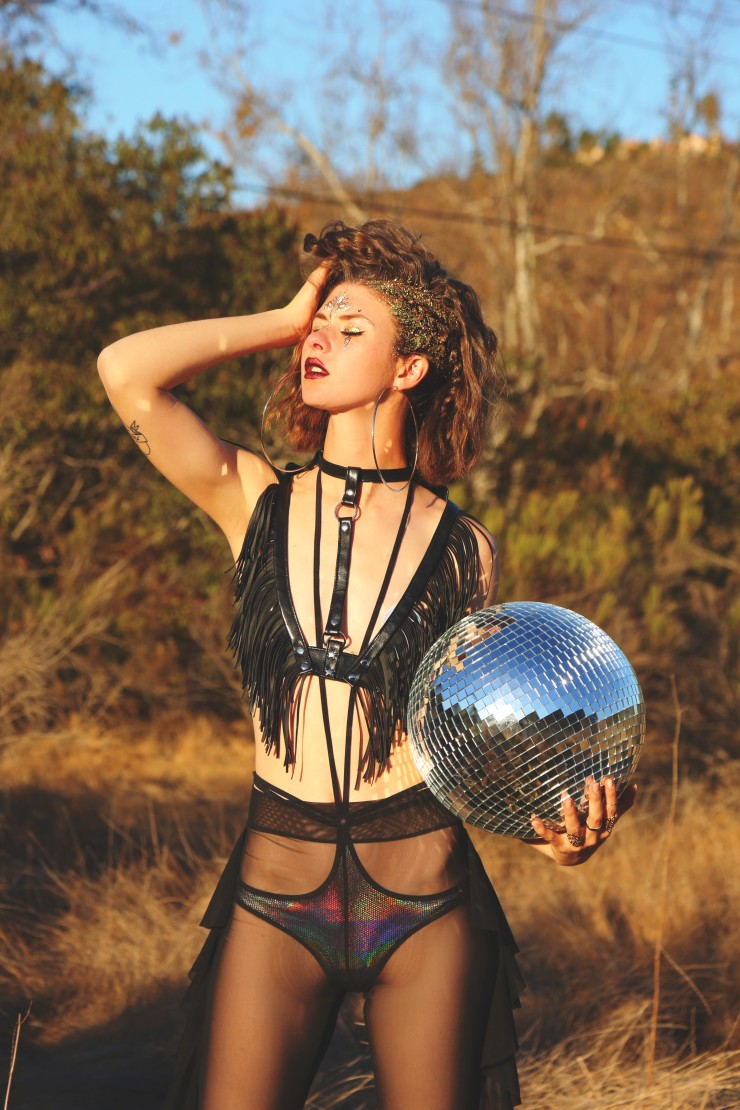 Shop the strappy and sexy Untamed Bottoms in Technologik >>>
You are not only a model, you have a wide array of interests and jobs that fill your schedule. Can you tell us a bit about what else it is that you do and how your jobs and interests help you give back to your community?
Currently outside of modeling I am going to graduate school to get my Masters in Early Childhood Mental Health, eventually becoming an LPCC, as well as being an equine assisted therapist.Basically, [equine assisted therapist] means that I teach horseback riding to kids and adults with special needs.
Honestly I can't even describe how much I love this job. It allows me to combine my knowledge of working with kids with special needs with a bunch of different types of therapy and a whole lot of magic. I get to help these people find a moment of peace and comfort and happiness is what can otherwise be a painful or frustrating day.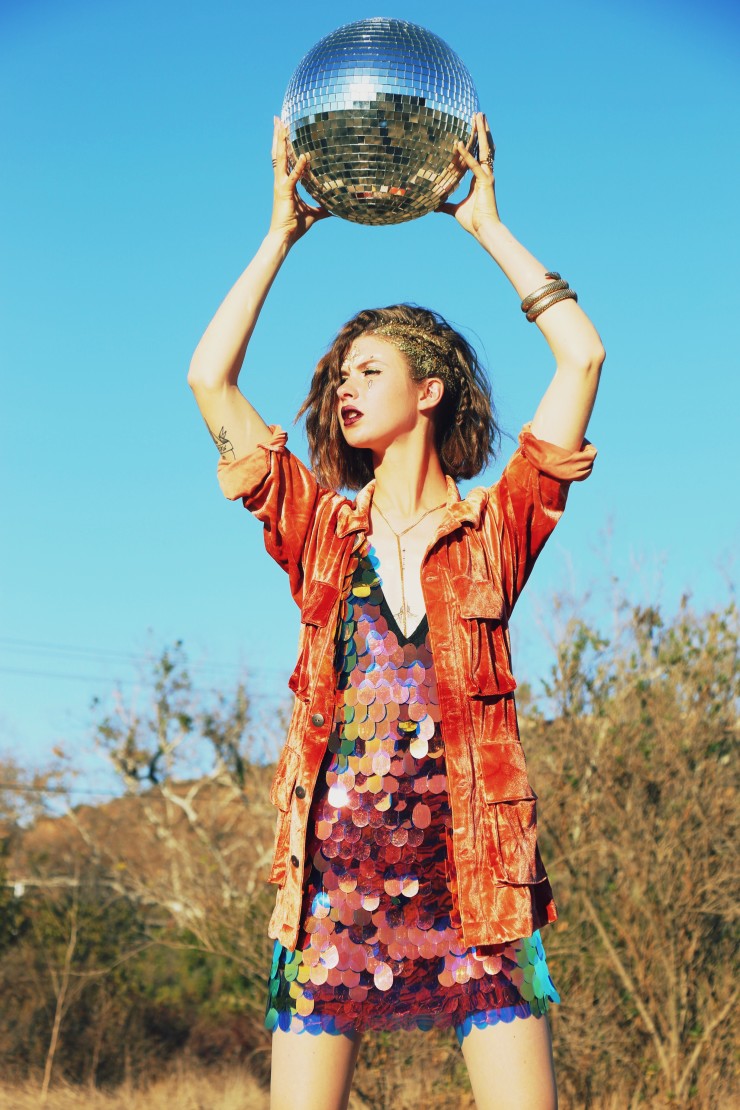 Keep cozy in the super comfy velvet Military Jacket in Fire Opal >>>
You were a part of our unity shoot. This shoot represented and banded together women no matter what their size, shape, race, sexual preference or how they identify. What did it mean to you to be a part of that specific project?
I was so excited when I was asked to be a part of that shoot. I'm used to getting left out of those types of shoots because people seem to think that it would be
"detrimental" to the movement to have me there. It meant a lot that LBD recognized my place in this movement and as a result I got to be surrounded by a bunch of awesome ladies!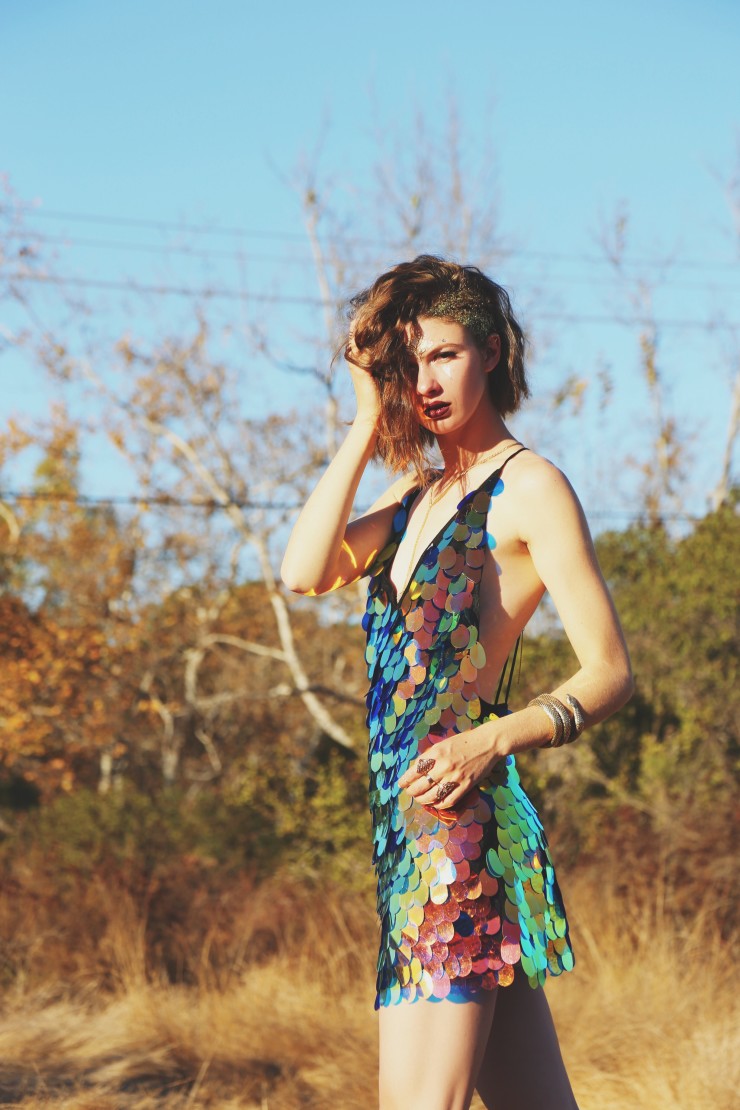 Slip into the sexy and shiny Groove Baby Sequin Dress >>>
You have a new tattoo that reads "resist" can you talk about your decision to get this?
I got that tattoo at a flash fundraiser for Planned Parenthood. At the time, the tattoo only meant exactly what it appears to mean: fight the power, smash the patriarchy, etc. But the more I learned about the symbolism and the more I thought about it, the more meaning it took on.
In American traditional style of tattooing the dagger through the heart symbolizes heartbreak. The heart can be yours or someone else's. By adding resist, I take it to symbolize resisting the desire to take the dagger out of your own heart and plunge it into someone else. We all walk around with an insane amount of heartbreak, but if we spend our energy- whether consciously or unconsciously, on bringing others down to our level, we will never heal. Each little action is a twist of that dagger. Resist the desire to throw daggers at others and help your heart heal. And yeah, smash the patriarchy.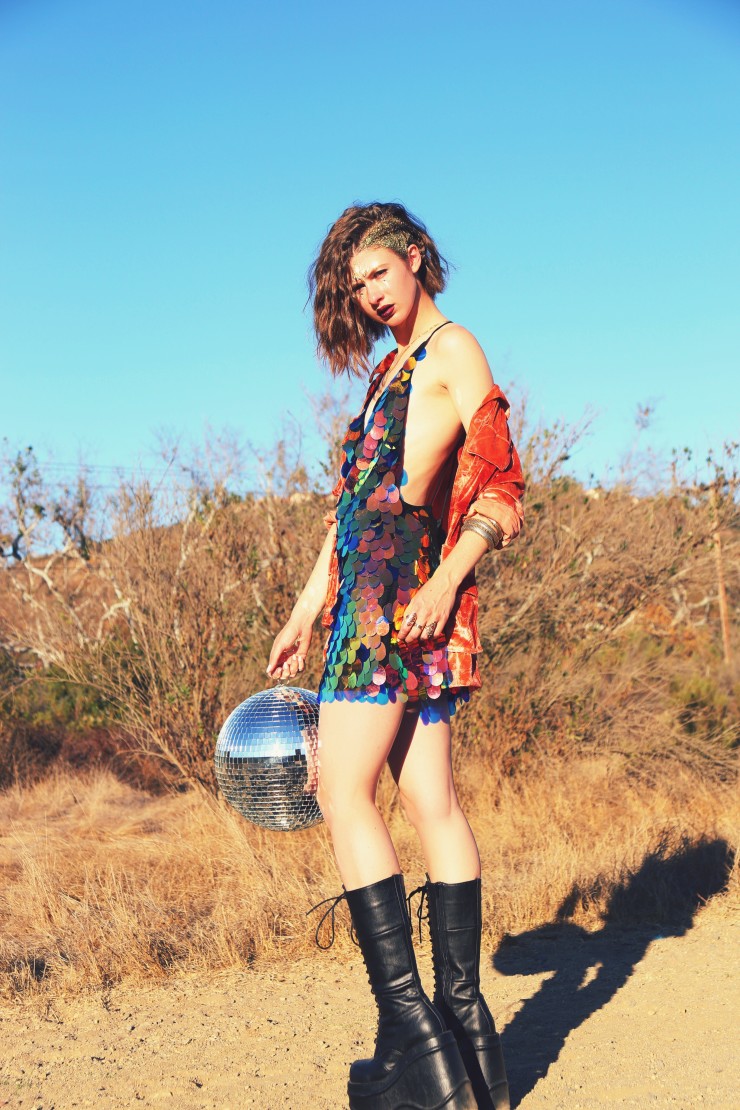 How does being transformed for an LBD shoot make you feel? You have been part of too many shoots to keep track of- do you have a favorite look or moment that has stuck with you?
So hard to pick! I think the most stand out LBD transformation was last halloween when we brought a whole crew of amazing ladies to Spin nightclub in San Diego. Our amazing stylist/ product designer/ my roomie/ co-cat mama Julia decided on characters for each of us. For me, she picked a Luna Moth. Once we were all dressed and ready, we went downstairs and got to perform little 5 minute sets on the gogo stages.
After we were all done, our videographer said he wanted more footage of our fairy wings in action- so I volunteered to jump back up. Being back on that box the second time was magical. I didn't have the first time jitters and I was able to just be a fantastic little moth! When Julia waved me down and informed me that I had been up there for almost 40 minutes I was shocked! But that's what a transformation like that can do! You can dance your heart out in front of hundreds of people and still be in your own perfect world. I guess in my perfect world I'm an insect.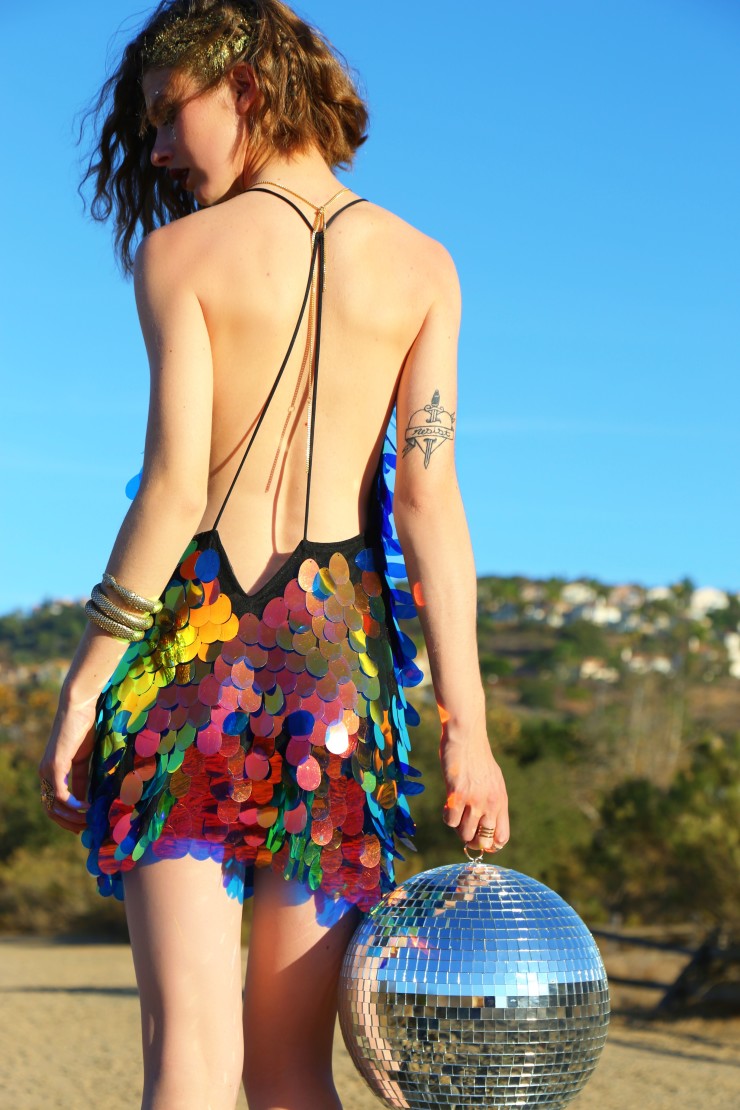 Why do you love LBD and how do our morals, ethics and practices align with your personal beliefs? Which items in our shop are your favorites and why?
My favorite thing about LBD is the fact that everyone involved in the company and the production of our clothes is paid a living wage. I no longer shop at large cheap stores because there is no way I can validate slave labor to be worth it to buy a bodysuit for 10$.
Those clothes will fall apart and then you're right back to giving that company more money. I'd much rather pay a little more for something that will actually last and I know the person that made it isn't starving.
I have new favorite items every season, but I think my current ones are the Espionage bodysuit and the Illusion pants. The bodysuit makes me feel like the dope double agent surfer babe that I've always wanted to be- like maybe I'm a Bond villain but in reality I'm way cooler than him and should probably have my own movie franchise. The illusion pants make me feel like an underwater clydesdale...if that makes any sense. It probably doesn't, but it doesn't have to!