With the new year upon us, we take time to reflect on what we've accomplished, learned, and where we want to go in the next 12 months. In this community, many are already beginning to make plans for the next festival season as we look to raise our vibration and enjoy transformational experiences with similar people. To help you make plans for the coming year we've taken a look at a few transformational festivals that have been making waves in headlines and hearts. While all of these will have their own values, approaches, and ethos, the one thing you'll be sure to find is a group of like-minded people waiting to welcome you home.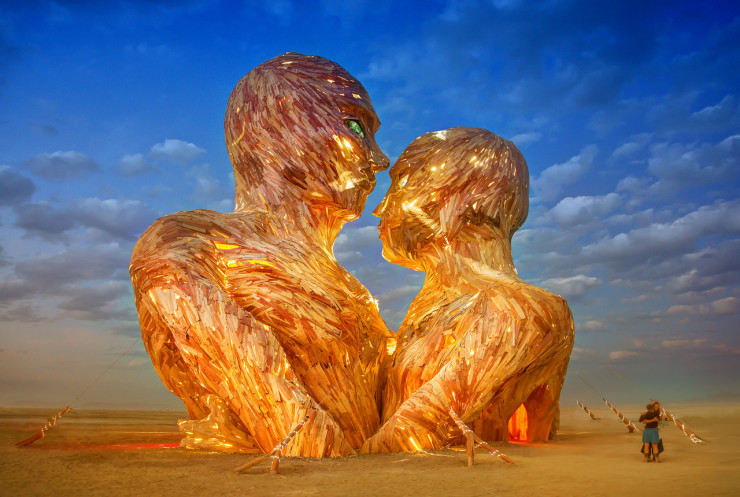 Burning Man
Black Rock City, Nevada
The mother of all transformational festivals, Burning Man has been changing hearts and minds since 1986 when Lee Harvey and a few of his friends held a bonfire in honor of the summer solstice. Today over 70,000 participants flock out to Black Rock City, Nevada for a week dedicated to adventure, awakenings, seeking truth, and connecting with their inner child guided by the event's 12 principles.
With few exceptions, everything at Burning Man is created by its participants. There are no spectators – a ticket grants you entry into whatever the other festival goers bring. This year I saw a real Boeing 747, several 6-story-high lattices, a life coaching camp, a museum of dead things, a mini golf course, and dozens themed bars and party stations that would give brick and mortar locations around the US a run for their money. All were made by people who are a lot more like you than you might think. By the way, all of this and more (i.e. soup in the middle of deep playa, pizza, enchiladas, french fries, snow cones, handmade ice cream, alcohol ranging from canned beer to fancy cocktails) is absolutely free.
You can only buy two things in Black Rock City: coffee from the center tent at 6 o'clock and ice from Artica. This is because Burning Man runs on a "gifting economy," (not trading as is commonly thought) where individuals or groups of people pool their resources to bring moments of delight to their fellow burners in exchange for nothing but bringing a smile to the face of another human being.
Last year I went with a group called Kostume Kult, we met for months beforehand organizing leadership, shifts, and activities for anyone who passed our camp on Esplanade. We showed up with 3 tons of costumes, an arts and crafts dome, volunteers to help you find the costume of your dreams, and MCs to give you your moment to shine as you rocked your brand-new outfit down our runway. We provided a playground where people could express themselves safely and receive whoops of encouragement from passerby and burners in line. And the activities are only one part of Burning Man, there's also the art, the fire spinners, the performances, the music!
But despite being a hotbed of talent you will not find an official event line up. If you look the best you can do is an excel spreadsheet that another participant has cobbled together based on artist announcements. This stems from how hard it can be to get a ticket (there's no artist bands) and because a huge part of the fun is seeing what you'll wander into. Two years ago, The Scum Frog posted all the times and locations of his sets saying, "plan on coming to all of them, maybe show up to one!" Because he understood how quickly plans unravel and lend themselves to something you had no idea you needed even more.
It's difficult to describe what makes Burning Man so magical, before I've tried to liken it to an adult Disney World with fire everywhere but that still falls woefully short. My personal opinion is that the center of the magic of Burning Man lives inside of the Temple. It's a sacred space to write your hopes, dreams, and wishes. It's a place to meditate and reflect. But more than anything, it's a place to gain closure for those who have left us. You'll find notes, pictures, keepsakes, artwork all trying to express the profound loss of a loved one passing on. It's quiet and surreal, you feel something deep in your bones, something that's always been there but you'll never be able to explain no matter how hard you try. All you can do is be present with that feeling and appreciate its magnitude. This year I wrote down four names, and although I felt intense grief I knew that beyond that was an immense love and connection – not just the ones I lost but to everyone around me. It's a special feeling and a very difficult one to describe. Imagine if an alien were trying to describe a color you'd never seen before, you would just have to see it for yourself.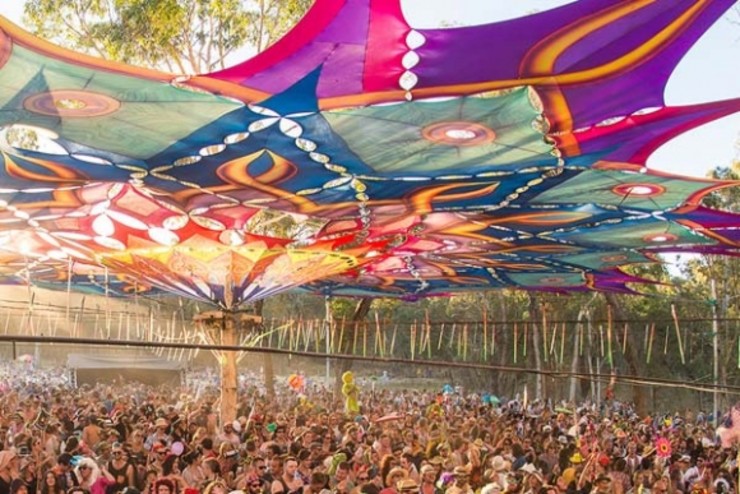 Rainbow Serpent
Lexton, Victoria, Australia
If you've taken a look at our most recent Lookbook then you already know that Rainbow Serpent is a mystical wonderland full of color, energy, and expression. What you may not know is that it's a bit off the beaten path.
Grab your passport, because to make the pilgrimage to The Rainbow Serpent Festival you'll need to fly out to Victoria, Australia. However, the journey hasn't stopped Rainbow Serpent from attracting a loyal international following. Each year 10,000 annual festival goers from around the world attend to be reunited with their festival family to celebrate nature, community, music, art, and lifestyle.
The name Rainbow Serpent is uniquely Australian as it comes from a Dreamtime creation story told by the original owners of the land. Aboriginal tribes often have very different cultures and stories, but the tale of the Rainbow Serpent is special in that it is one of the few stories that is known by all. The Rainbow Serpent protects land and is the source of all life.
Despite the faithful following and international prestige, you probably won't find your favorite artists at Rainbow Serpent – it's widely thought that the largest international act the festival has pulled in was Shpongle in 2011. This is because the festival has its roots in psychedelic trance and minimal techno, although the genres have branched out into other electronic variations, hip-hop, ambient, and experimental.
Although, the mystery of performances can really be part of the fun. There's something to be said about entering a festival with no expectations and seeing where the experience takes you. Plus, music runs 24 hours a day over the course of the 4-day festival, ensuring you'll be exposed to a wide array of excellent talent. But to say the focus is on music would be a massive disservice to the rest of the art Rainbow Serpent has to offer. There's an entire stage set up for circus artists, dancers, thespians, and fire spinners. Truly, Rainbow Serpent is an experience for the books.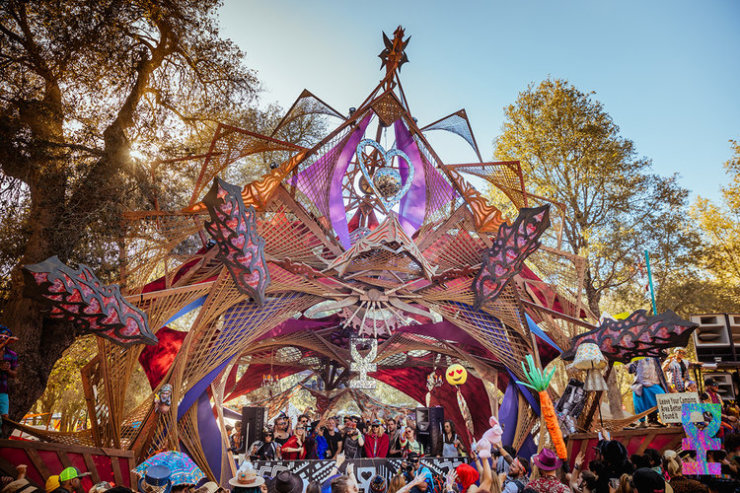 Desert Hearts
Los Coyotes Indian Reservation
Warner Springs, CA
Desert Hearts was founded directly out of a group of people's experiences with Burning Man, so when you show up to one of their events you know you're in for a funky, high vibration experience. What started out only a few years ago as a dusty desert-driven collective that threw parties now has dedicated festival events from the boonies of southern California to LA proper.
You can also expect many of the elements burner fashion; jewels, LED creations, crowns, sparkles, fuzz and fur galore. Everyone is dressed to express. They invite you to give yourself over to another world, to stumble into a collective consciousness that Desert Hearts has carefully curated. Even the principles of Burning Man have integrated themselves into the fiber of their events. If you smoke cigarettes upon arrival you can expect customized pocket ashtrays that make leaving no trace feel cool and fun, not like an obligation. The people are open with one another, making it a great place to make lasting burner-like connections in milder conditions closer to home.
The music is deep house meets gritty techno, and is typically limited to one stage, a testament to the team's dedication to ensure all of their partiers will be on the same wavelength. But as the festival-goers will tell you, the music, art, and vendors all take a backseat to the true, deeper meaning of Desert Hearts – loving yourself and those around you fully.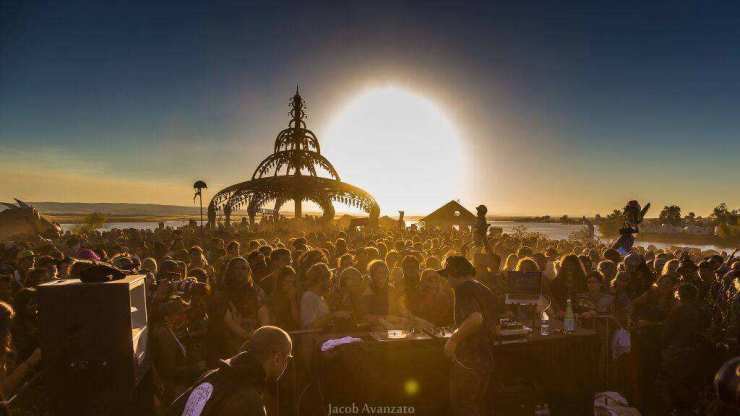 Symbiosis
Woodward Reservoir Regional Park
Oakdale, CA
Symbiosis has been so dedicated to its mission and core beliefs that they've never sold alcohol or taken on any kind of sponsorship money. Symbiosis isn't an event, it's an art project and their leadership wants to keep it that way. Normally located on a five-pronged peninsula in California, the grounds are an oasis where participants can keep cool in the water all day and dance all night. The attention to detail in the venue is impeccable, in 2016 the main stage was built around the theme of balance by using burly steel surrounded by whimsical feather designs to capture both masculine and feminine energy.
Although there is a large stage, the magic happens in the nooks and crannies hidden around the grounds where you can expect to see talent like Bassnectar, Beats Antique, Shpongle, STS9, &Me, DJ Tennis, and Thugfucker in more intimate settings. Symbiosis attendees tend to refer to their fellow festival-goers as an extended family who watches out for one another. One participant said, "We all have gifts, we can all support one another and artists are put in a place where they can share their art and it's just out of love."
Last year Symbiosis did something out of the ordinary and teamed up with several other organizations including Dolab, Beloved, Rainbow Serpent, and Sonic Bloom to put on a festival in Oregon to celebrate the magnitude and spiritual significance of the solar eclipse.
I met a woman named Essence at Burning Man who described the moment of totality, "It was incredible, everyone gathered together to watch and the moment we reached totality we all went through a portal together. Everyone felt it, as though we collectively opened a door to the next chapter." On the one hand, it's a shame these celestial events don't happen more often, but on the other it's part of the reason they're so special. We can only hope that this excellent cast of organizers will be back to curate a similar event for the 2024 eclipse.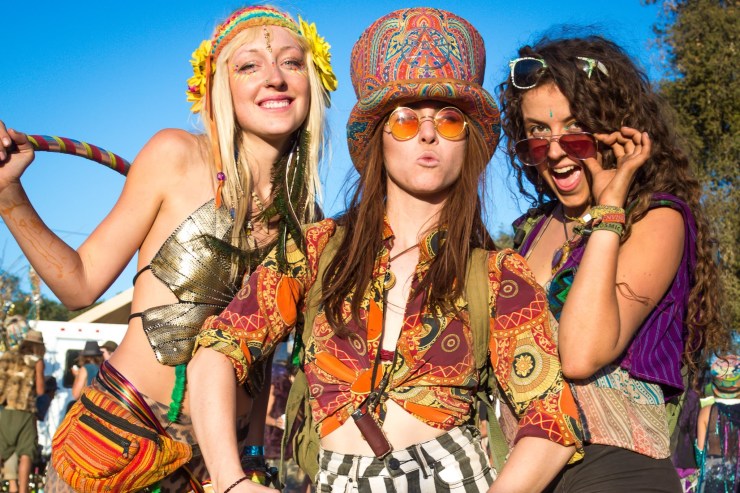 Lucidity
Live Oak Camp, CA
Lucidity was founded in 2012, and was created with the goal of writing a story arc over six years that followed the fabled "Hero's Journey." The hero's journey for those unfamiliar includes a call to adventure, supernatural aid, the beginning of transformation with a mentor or helper, a revelation, transformation, atonement, and returning to the beginning with a newfound gift. This is the secret sauce that adds excitement and inspiration to books and movies like Harry Potter, Star Wars, the Matrix, and Lord of the Rings – but Lucidity gave participants the dreamy opportunity to experience it for themselves in real life by committing to themes for each year of their event.
Unfortunately, the hero's journey ended last year, but fear not, that was only one chapter of the larger story of Lucidity. If you're able to attend this year you can expect to see the theme of "Rising Dawn" play out. Here is how Lucidity describes this edition of the event, "We are awakening, not just to our infinite potential as individual beings, not just to our collective power when we reinhabit the village, but to our vast possitentialities as a species, interconnected with all of life. The rising sun illuminates where we've been and shines light on the path before us. We see this next rite of passage as a new quest toward a unified humanity, and we joyfully say YES."
Another feature that differentiates Lucidity from the crowd is their focus on education throughout the event. Before you arrive, you can choose to get involved with courses that offer a unique, hands on learning experience that gives you something to celebrate once the festival begins. The topics at the festival range from what edible plants make it easier to lucid dream to the techniques behind pop-and-lock dancing.
The commitment to self-enrichment is what makes the festival so transformational, it's also what makes parents feel safe bringing their toddlers and teens along for the ride. Like Burning Man, Lucidity has its own core values: participation, personal growth, awake consciousness, environmental/social responsibility, family fun, communal reciprocity, and transparency. Unlike Burning Man, an event for rebels who love bureaucracy, Lucidity makes it easy, and well, transparent, to participate by exhibiting your art, working as a healer, joining the media team, volunteering, and even performing onstage guaranteeing a unique and meaningful festival experience.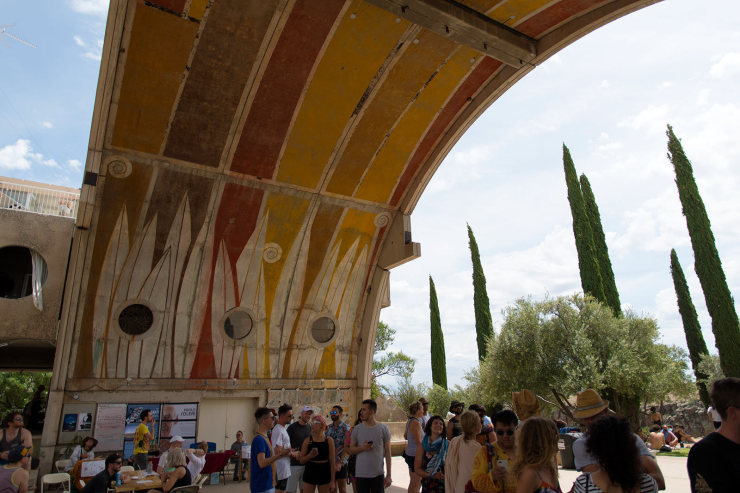 Form
Arcosanti, AZ
Form takes place in the middle of the canyons of Arizona in a hidden urban experiment, Acrosanti, developed by Paolo Soleri. He believed that modern urban planning was unsustainable. "His dream was to build a fully functioning, environmentally responsible city that balanced architecture and ecology." The elegant apses which blend into the surrounding desert have infamously been a source of creative inspiration as they were borrowed by George Lucas for the planet Tatooine in Star Wars.
Today it's used to bring 1,500 like-minded participants together for a weekend filled with creative activities, adventure, talks, art, music, and dance. To ensure a good collective fit in this small-knit community, participants must apply and be accepted to the immersive experience.
Despite the small headcount, Hundred Waters (the event's curator) has pulled an impressive roster of musical performers: Skrillex, Solange, Tycho, Father John Misty, Four Tet, and Thundercat – in the past two years alone. If you make the cut you can expect to enjoy a sound lab where you can play around with different instruments, a large pool on a cliff, daily yoga, guided tours, ceramics, and the blurred lines between artists and participants. Part of the magic here seems to be linked to the event's size and low-key marketing efforts, so keep an eye on this newcomer before it blows up.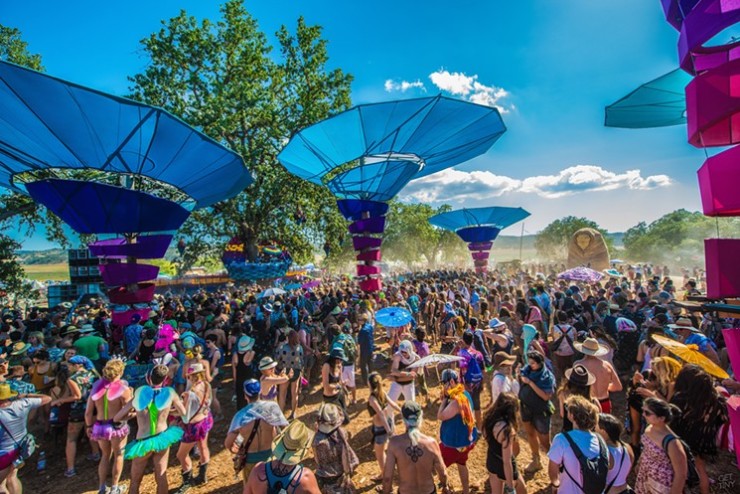 Lightning in a Bottle
San Antonio Recreational Park
Bradley, CA
Lightning in a bottle started as a birthday party with a 150-person guest list in 1999. It was run by three brothers who today are still actively involved in the production of LiB at the management level. Today 25,000 open-minded souls head out to San Antonio Recreational Park in Bradley, California for the promise of art, immersion, music, and connection.
Art comes first for a reason, it's always been the emphasis at Lightning in a Bottle, no small feat when last year's headliners were Bassnectar, Bonobo, Rüfüs Du Sol, and Kaytranada.
Even the stages were built with a focus around art to enhance the musical experience. The location of the DJ is deemphasized, something you typically only see in underground venues or smaller events. The Do LaB (curators of the vent) also spare no expense when it comes to the aesthetics that often work hand in hand with the vibe of the music. You won't see the standard white tents most of us have become accustomed to at other festivals. Instead, they hire artists to build breezy, open structures that use specially designed beams and tension cables. The results are colorful, geometric, and absolutely breathtaking. The colors and structural components are designed to enhance the effects of lights and video to create a one-of-a-kind, space to dance yourself clean.
But it's not just the dancefloor where the art takes center stage. The venue is big enough that you can walk around for the duration of the festival and feel as though you're stumbling across an array of never-ending games and interactive experiences. You may see a giant hammock tower where you're free to climb, play, relax, and let your inner child take the lead. The festival also offers transformative classes from yoga, to inspirational talks to encourage festival goers to embrace the best version of themselves.
A stand out experience from last year was a mock haunted hotel with secret rooms and actors in full garb and make-up creeping around to amplify the spooky factor. But this air of discovery also lends itself to the musical acts at LiB. While there are a number of big names across electronic genres, this festival is also known to book obscure up-and-comers that may just become your favorite new act. Without a doubt, Lightning in a bottle is a festival that will not disappoint.