SKYE (@skyetunez) is an awesome tech/house dj from Dallas, Texas. Known for her very eclectic #BODYTRIP mixes, Skye is great at taking you on journey to "Funky Town" but on the way she makes a pit stop in "Feelsville" and "Upbeat Creek" ! Ah, I crack myself up sometime. But seriously this lady is a breath of fresh air and good vibes coming into the Las Vegas scene playing all over town.
From the day pool parties at the infamous Drais on the strip, to the late night/early morning after hours sets at The Artisan. Skye knows how to keep you dancing to good house music all night long.
Bodytrip 07 - https://soundcloud.com/skyetunez/bodytrip-07
Hey Skye! I am so glad you sat down to talk with Little Black Diamond today. We know by now that you go by Skye, What else should we know about you…
Hi LBD! I am a Las Vegas based, tech/house dj. I play house, techno, and a cross of both. (tech-house)
Have you always played in Vegas or did you transplant here from a different city?
I started playing my first shows here in Vegas and this is where I started learning to dj but I am from Dallas, Texas and have played shows in both, as well as Los Angeles.
You say you have been djing for a few years now, What got you on the path to start taking on a life in music?
So this all started when I got introduced to the electronic music scene as a go-go dancer for music festivals nationwide. I have always had a passion for the scene & throughout the years I noticed that there are mostly male DJ's and thought that females in the dance music community need to be represented more and I love this music so why don't I try to turn the love I have for music into something that can make a difference.
Around that same time, I went to Dirtybird Campout and discovered my love for house and techno music. After that unforgettable weekend, it inspired me to start learning to mix and i became addicted right away.
That's totally what I was going to ask you next, Did you always have a love to play house and techno or what other genres inspire you?
My sound is constantly changing. When I first started out I was playing more future house/night bass inspired tracks. Then I fell in love with tech house and I am now experimenting with industrial house, acid house, and techno. But even with all of that said, my sound is always progressing and changing with all of the new music that is being released every single day. People are always developing new sounds so it is kind of hard to just stick to one genre.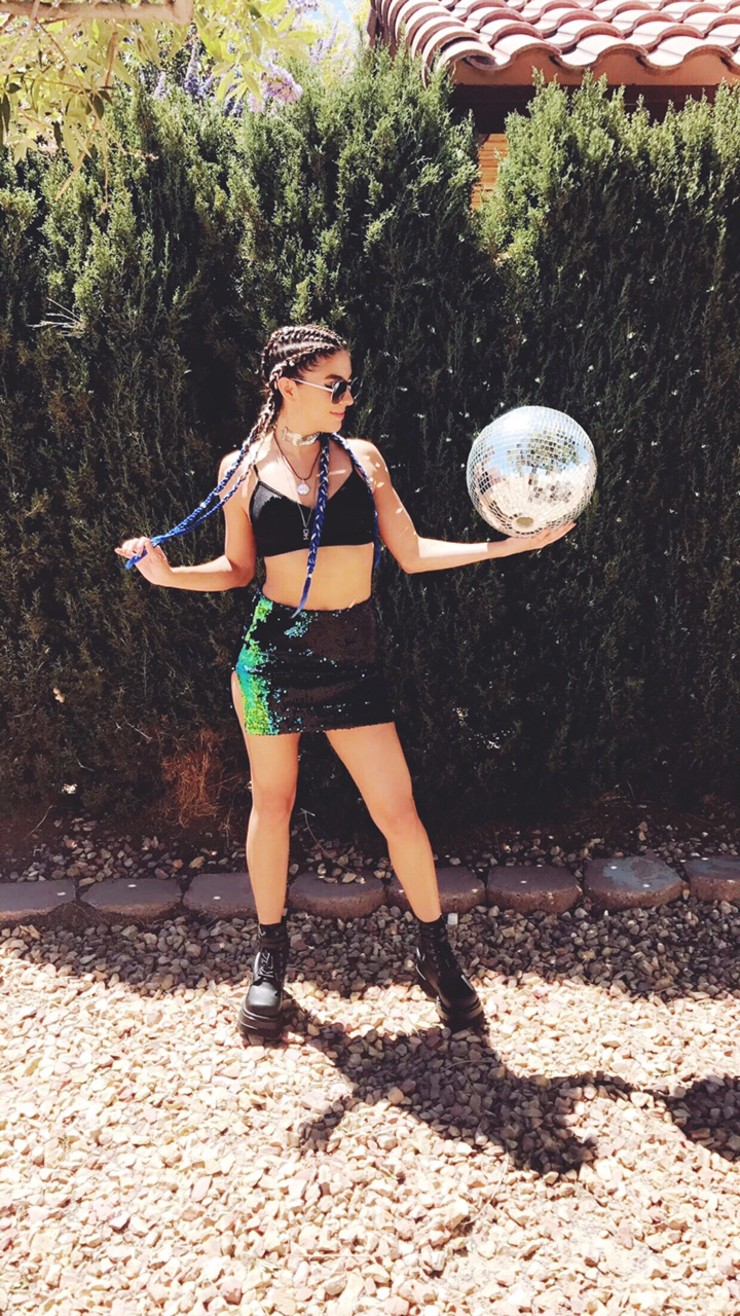 So, Skye the way I discovered you and your music is through your "Bodytrip" mixes on sound cloud. I absolutely adore those mixes and the different vibes you give off during each mix.
Aweee thank you!
So leading this into my next question, How do you go about curating the vibe or picking the songs for your mixes?
Honestly, It's kind of just how I am feeling at that moment in time. Sometimes I am feeling super hype for a festival so that mix might be have a more upbeat sound and energy to express my excitement. Or, if I am just relaxing and feeling a bit more creative, the set might be a little more intimate and less high energy. So it just depends on how I am feeling in that moment.
That is why I really like my Bodytrip mixes because it is 100% me. I can listen to it and relate back to exactly how I was feeling that day. I also have some of my other mixes that are more themed based, so I have one up that was "Disco in the Desert" that was for an opening demo set and I also just did a mix for a Dirtybird Campout competition. Those are separate from my Bodytrip podcast. I really love of the Bodytrip mixes because it is like my way to communicate to people without physically being there but still able to interact with people through the music.
Awesomesauce! Now tell us do you have any artists out right now that you consider to be your favorites or your greats?
Yes actually, well there's so many let's see where to start… There are a lot of female artists that are popping up right now that I feel are really standing out and making their place in the music industry. Lauren Lane, she is really really really good then there's another girl named Peggy Gou that is rocking it and all these girls are not only coming out in masses showing the face of females in the industry but everyone is so different and that also shows diversity in the backgrounds of all of these woman. I think it's great to see more and more female djs releasing more music and playing festivals every weekend. It's really nice. And of course I love everyone from the Dirtybird label. Then there are my classics I love like Green Velvet and Adam Beyer. I just saw Adam's set during EDC Las Vegas this year and his sound kind of opened me up to my darker techno side so lately I have been into that. Another go to is Moonboots, that's basically on repeat in the house.
I am going to be adding those ladies to my playlist for sure. I am all about that girl power in the scene. Are you planning on going to any more music festivals this year?
So far this year I have gone to CRSSD which was AMAZING! I love San Diego, and the venue is beautiful with a perfect sunset view. I like the palm trees and that you can see the port with all of the boats. I went to Desert Hearts that was also amazing, it is more of a burner type of festival, where you have to plan properly or you're going to struggle to survive but in the name of music it was great lol. It was a journey getting there, we got stuck driving through a dust storm. But even going through all of that, Desert Hearts was magical. The music goes for 72 hours straight which is cool because if you're feeling sleepy you can take a disco nap and then go straight back to the dance floor. I have gone to at least 25 different music festivals and out of all of the festivals, this one is the most love orientated. I never sensed a single bad vibe during Desert Hearts. Everyone there feels like family. That sense of community is probably why I say that Desert Hearts is my favorite festival. I also had my first Coachella experience this year. I only went Day 3 and that was all I needed. I bounced back and forth between the Do Lab and The Yuma Tent. We saw Sasha in the Yuma tent which was really special. The Yuma tents dark wooden floors make me wish i would have brought my rollerskates. We stopped and saw Kendrick Lemar and his production was unreal. Rufus Du Sol being the surprise guest pretty much made my entire Coachella experience, I was beyond happy. I went to day three of EDC it was super hot but Drumcode was worth it. Up next is Dirtybird Campout!

With that many festivals going on I am usually stressed to find cute gear or a signature piece to bring my look together. What vibe do you go with when shopping?
I am really open and enjoy fun, funky pieces and sometimes even themed outfits, more like costumes! I really like the Star Rider Fringe Belt from Little Black Diamond, I am going to have to grab that for my next festival.
Yea it seems like festival season is year round right now. It used to be once we hit the end of August things we're pretty sparse until the New Years Eve raves and then beyond in March. Not anymore lol
Yea it's like Dirtybird and CRSSD, Groove Cruise, Rare, The Gathering, and 3 points in Miami the weekend after Dirtybird, I am tired already. I definitely won't make each of those but props to those of you who do.
So I have to ask this being that we are chatting about women in the industry. What is your stance on females in electronic dance music?
I think it's funny actually. I've meet some people and they act like they are surprised that they like my music AND I am female. Like I have had people say things such as "Wow, your stuff is actually good". It is a total back handed compliment so I do feel like as a female DJ, sometimes people do not take me as seriously until they meet me or listen to a set of mine. I feel like male or female shouldn't matter, it is the music and energy you are sharing.

Since you have gone to a ton of festivals, Do you have a dream festival you would like to play at?
I would love love love to play Lighting In A Bottle. I have not been able to attend LIB but I have heard how loving and spiritual the place is. The culture there would be really cool to experience. I also just entered a DJ competition for Dirtybird Campout so that would be awesome if I won!

Where can we find you playing next?
Soul State is a monthly event I am a part of. DJ Club is a bimonthly event I play at and on a weekly basis I play at Drais Paradise up until the fall. Random gigs pop up all the time and I just post the debts on my social media. Instagram being my primary!