Hey crafty goddesses- we love our new military jackets! With an abundance of sturdy pockets they are a perfect and practical layering piece to keep you warm for not only festivals, but your everyday life! Constructed based off an actual military jacket, the pockets feature industrial snaps to keep your possessions safe and in place while dancing. At Little Black Diamond we love self expression so we wanted to give you some ideas of how you can quickly and easily customize your LBD military jacket (and really any piece off our site) and show off your experiences on your sleeve!
Idea #1: Did you know that LBD Pasties double as the perfect patch? Our pasties are actually made from the same fabric as our clothes, so using them as patches is a breeze. You can either use a new pair or repurpose a worn pair as a memento of your festival. Although just peeling and sticking a new pastie will stay for a while, we recommend either machine or hand sewing around the edges to ensure stability (especially in the wash). If you do not know how to sew, it's easy! And a great life skill! There is a quick hand sewing tutorial below.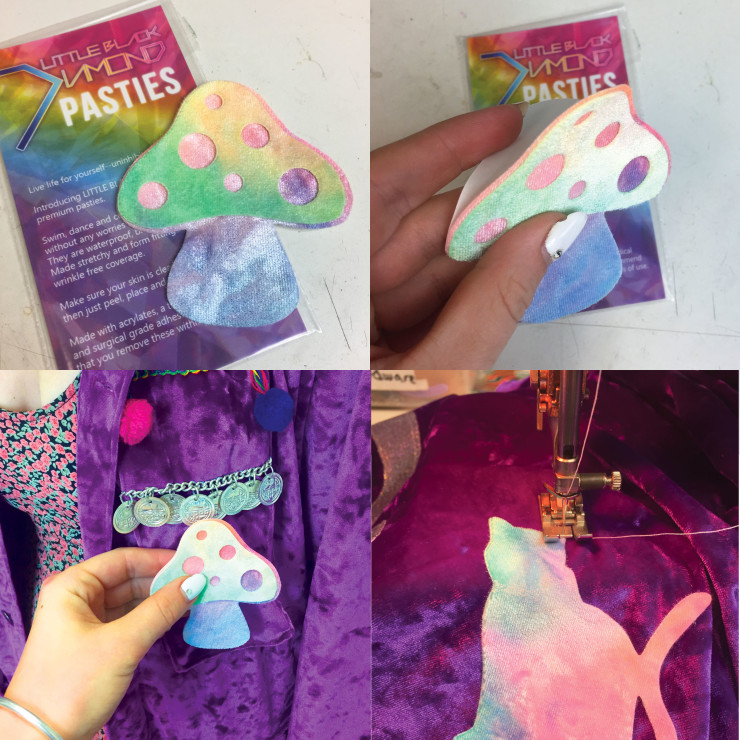 Idea #2: Adorn with pins! Pins are a great way to show your personality and customize your clothes. We used our trusty "Fuck Trump" pins, but you can use anything you like. We also had some cool metal fasteners lying around shaped like stars which we embellished the collar with. If you search paper fasteners or brads on google you can find a variety of shapes to embellish with, they are super simple and easy to use. The backing just has two prongs, you push the prongs through the fabric (in this case only one layer of fabric so the prongs don't show on the other side) and then split the prongs open to secure into place. A quick online search shows that the brand Creative Impressions has hearts, stars, balloons, leafs, snowflakes, and colored dots.
Check out the ones we used here >>>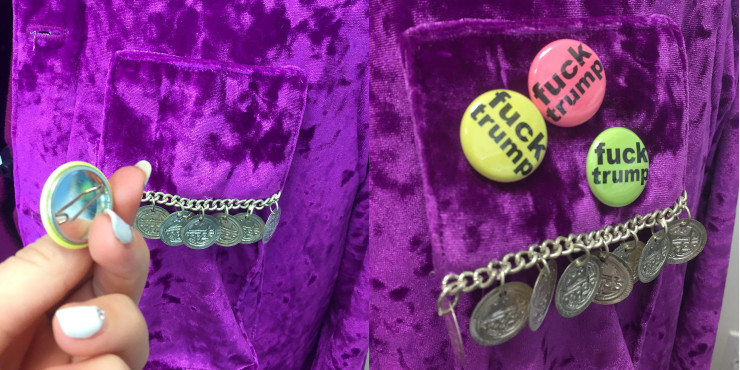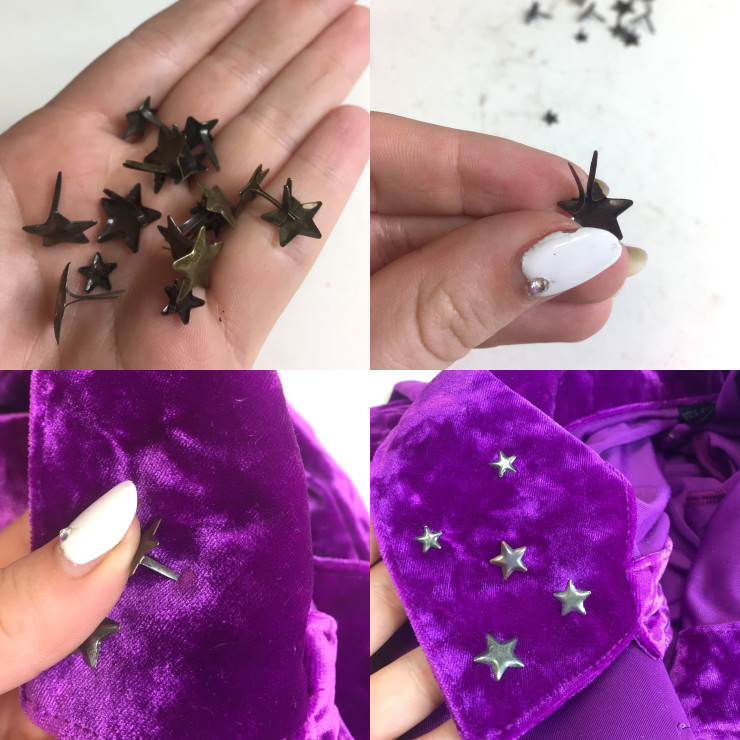 Idea #3: Sew on or even glue on trim! I had some cool pom pom trim lying around so to add some flare I lined that up with the tops of the pockets, sewed it on, instant statement & added color.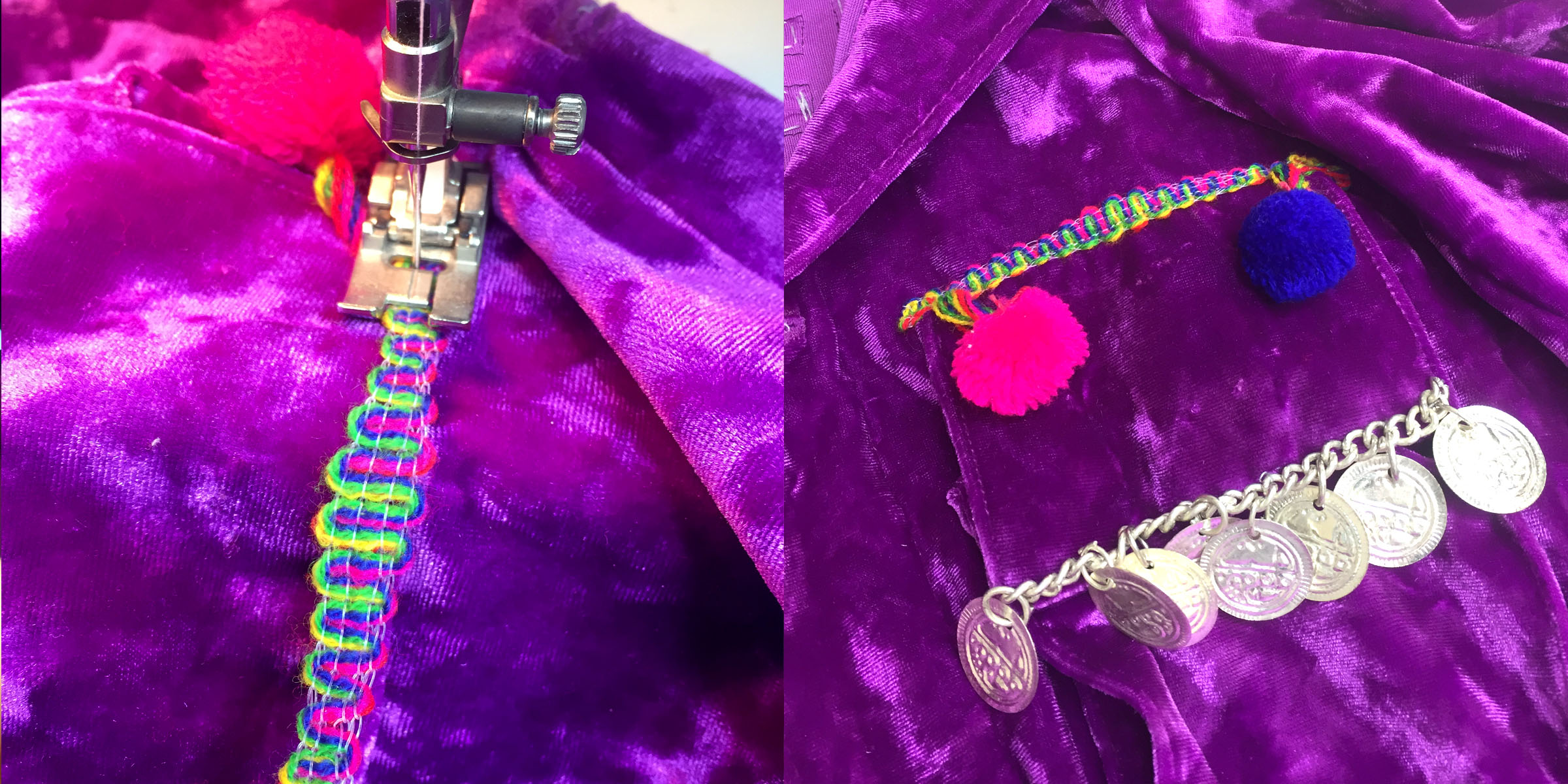 Idea #4: Customize your message! If you can't find a patch or pin to say what you want, make it yourself! We decided to write "Feminist" and include the female sign on the back of our jacket. To do this you will need to go to a fabric store or online and get fusible web interfacing (or Stitch Witchery which is just fusible web on a roll like tape for hemming things quickly). Fusible web is a type of interfacing that you sandwich between two pieces of fabric & iron (with steam and pressure) to fuse together.
For our jacket, I first chose a font I wanted my word to be in and an image of the female symbol I liked. I then printed out different sizes, cut them out, and held them up to the jacket to see which I liked the best. Once I found a size I liked, I used the cutouts as templates to cut my fabric from. I pinned the letters & symbol onto the fabric and cut them out (if you don't have pins you can also trace them on the back of the fabric just make sure your letters are flipped so that the word reads correctly when they are cut out). I also cut out the same letters and symbol from the fusible web. I tried the jacket on a friend to mark approximately where I wanted the words and symbol to hit and marked them with a pin. I then layed the jacket flat and used a ruler to make sure the spacing was even and the word was straight.
When you have everything ready, turn your iron on to the setting with the most steam. Line up your fusible web cut out and your fabric cut out on top of each other (fabric on top), cover with a separate piece of fabric (something you have lying around or a dish towel, this is to protect your fabric and the iron) and then iron over using a lot of steam and a bit of pressure. Go over it a couple times, then let it stand for a couple of seconds before uncovering. If the fusible web didn't fuse all the way you can go back over it again.
Do this for all your remaining letters and symbols. Again, this is a great way to attach your letters but for ensured security we recommend machine or hand sewing around the edges as well. For mine, as I hand sewed around the edges, I looped in some chain we had laying around just to make the edges look nice and bold. (this sewing technique is outlined in idea #4)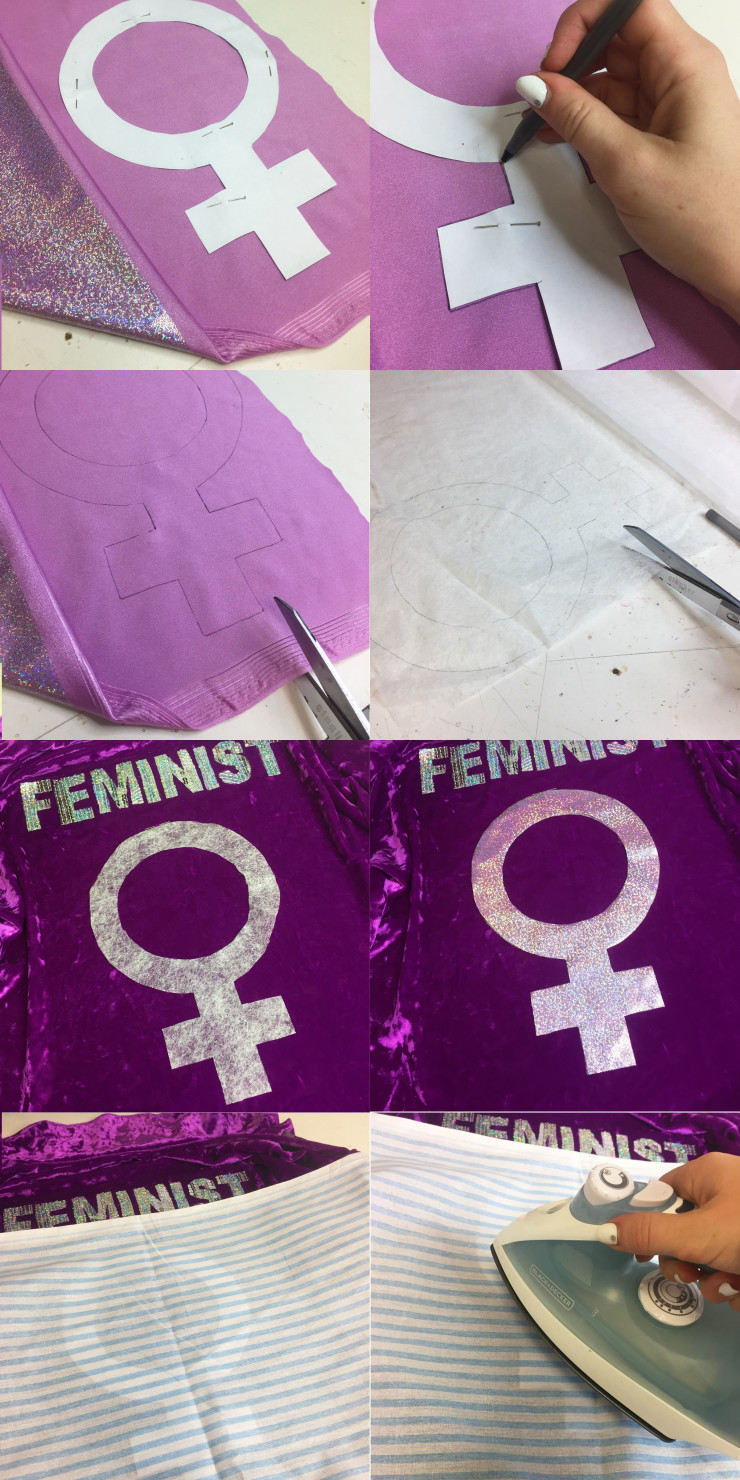 Idea #5: Repurpose old festival clothing! We had an old broken chain belt laying around so I used some pliers and cut it the length of each of the pockets. I lined up the chain with the edge of the pocket to ensure that it was straight and then hand sewed. To do this bring the sewing needle through the fabric, and then through a chain link, then back through the fabric around the same place as before.
Once you are back through the fabric bring the sewing needle back up through the fabric around ½" down from that point, then through the chain link, back through the fabric at the same origin point, then come up ½" down and keep repeating until you get to the end. This is called a slip stitch, it is a little bit more advanced but still easy! The concept to hide most of your stitches from the outside of the garment, you are basically securing a part of the chain, then moving down and securing another part (you don't need to secure every link).
When you are at the end bring your needle through to the back side of the fabric, cut the thread keeping the tails of the thread as long as possible, then tie a couple of knots to secure your work, cut the tails and viola!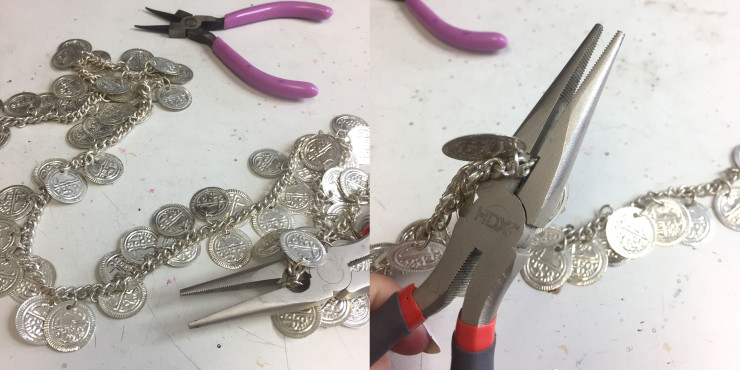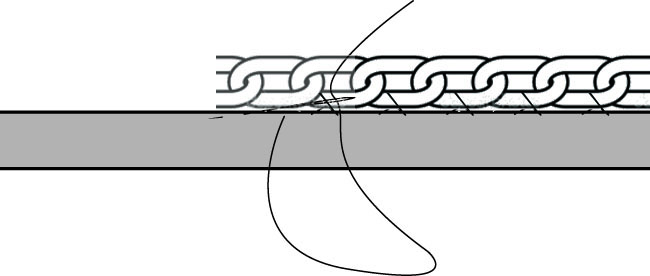 How to hand sew, for beginners:
Get a needle and thread.

Cut your thread (for small patches and letters like this) around 2 ½" feet long.

Thread the eye of the needle, if this is proving hard for you try cutting the edge of the thread cleaner or put it in your mouth to streamline the thread to make it easier to thread)

Once the needle is threaded pull the thread through so that you have two tails of thread of equal length.

Hold the end of the tails together and tie a knot at the end. An easy way to do this is to wrap the tails around your finger so they form a loop, and then roll that loop off your fingers and pull the tail through. You can do this more than once to ensure the security of your sewing.

Start on the backside of your fabric so that the knot doesn't show. Come up through the backside of the fabric and then go back down through the fabric in around ⅛"-¼" intervals. This is the simplest stitch called a running stitch. You can do this around your the edges of your patches or letters to keep them on.

If you want, you can also use a whip stitch on your patches or letters. It starts the same way as the running stitch, but instead of going over and under in a straight line, you will go over and under on a diagonal around the edge of your patch forming loops. Whichever you choose is just aesthetic preference.

To end, bring your needle through to the back side of the fabric, cut the thread so you keep the tails of the thread as long as possible, then tie a couple of knots to secure your work, cut the tails and viola!

Now, just admire your beautiful work!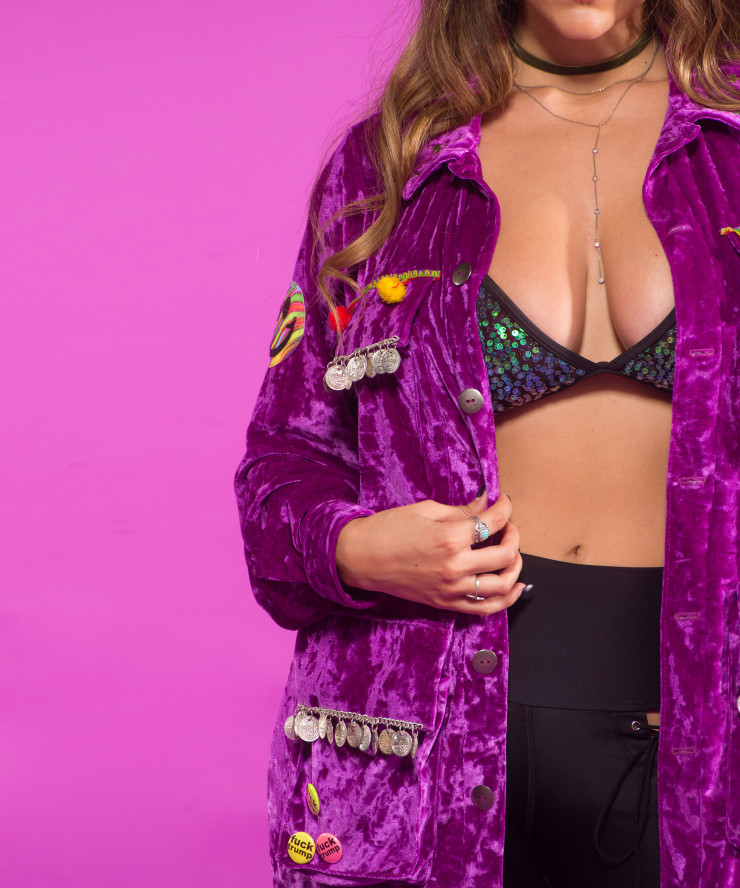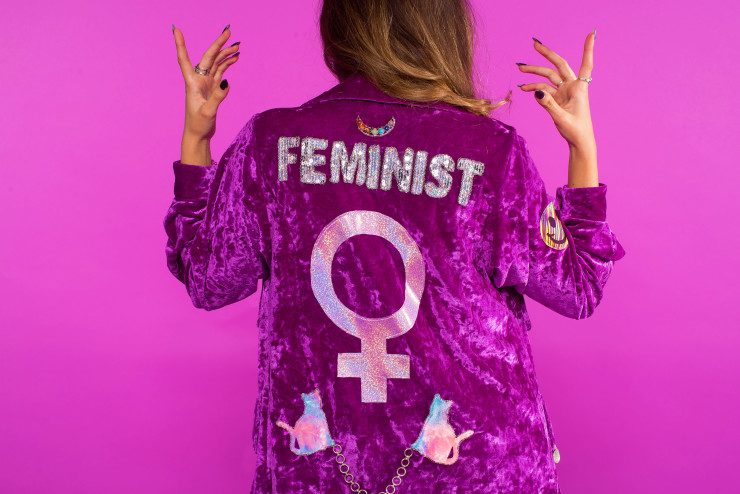 Have any cool craft projects with your LBD apparel? Send us your creations! We'd love to share! :)