Festival people wait all year for their favorite events to roll around, hyping them up for months before diving head first into a multi-day party. Jumping out of a regular life and routine into a festival setting can be jarring for some, especially if the festival or burn you are at is an immersive event that has taken you some time, effort, and energy to prepare for. The pressure to do and see everything is real and can take its toll on your mind. How does one keep their mind clear and healthy while also trying to party it up at a festival? Stay tuned.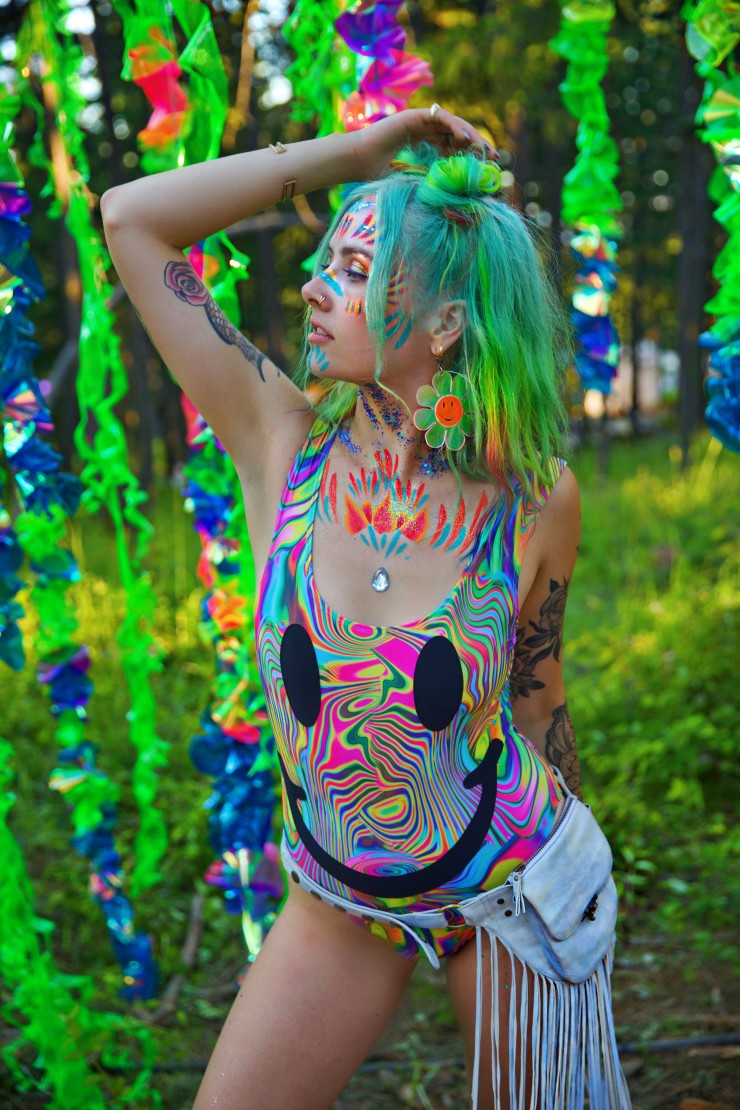 On Thursday night at Burning Man 2016 I lost my friends at Camp Question Mark, a very large, overwhelming sound camp where GRiZ was playing a live set around midnight. I tried and failed to find my friends among the crushing sea of people. I started crying and was upset with myself that I couldn't have a good time on my own, something I normally don't have a problem doing. I tried to just leave and go back to my camp, but I realized I'd lost my bike as well. My camp was way too far to walk back to and leave my bike behind.
I cried through the rest of the GRiZ set, stuck in my own sad moment despite the awesome vibes around me. In that moment I questioned why I had come to Burning Man and I felt myself falling into an anxiety spiral. I was having an awful time.
Eventually, I found my friends in the fire spinning circle and not long after that I found my bike. I ate a granola bar expecting it to fix my problems, but it didn't.
"I want to go home," I told my friend Dana. She gave me a hug. Back at camp, another friend cooked me two packs of beef ramen that I shoved in my face unceremoniously before passing out for eight hours.
I woke up the next morning feeling like I'd been reborn. At breakfast, Dana told me that she wasn't worried about me at all,

"Hungry, tired, and overstimulated. You just needed to eat and sleep it off."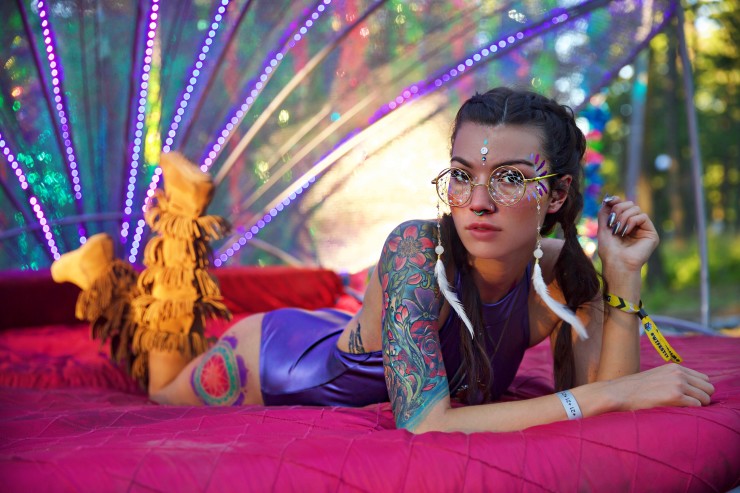 In that moment everything clicked. Hungry, tired, and overstimulated - the mood killing trifecta. I realized that before the ramen, I hadn't eaten anything substantial since lunch the day before and I had been awake for almost 36 hours. I don't normally run myself into the ground like that, but at a large event it's easy to get swept up and forget to check in with yourself.
If you feel yourself falling into a dark spiral at a festival or you feel you're overreacting to a situation and aren't sure why, check in with yourself. Don't ask yourself if you're hungry, ask yourself when you last ate some food. Are you tired? You might not feel tired, but if you've been up for two days, your body will probably need some rest soon.
The key to a healthy mind is a healthy body. These check-ins are especially important if you're partying, dancing, hanging out with friends, drinking alcohol, or maybe using recreational drugs, all of which can alter your mood and can cause you to forget to eat and hydrate. Making sure you stay hydrated, eat food, and find down time to sleep at a festival are important to having a great time and keeping your mind healthy as well.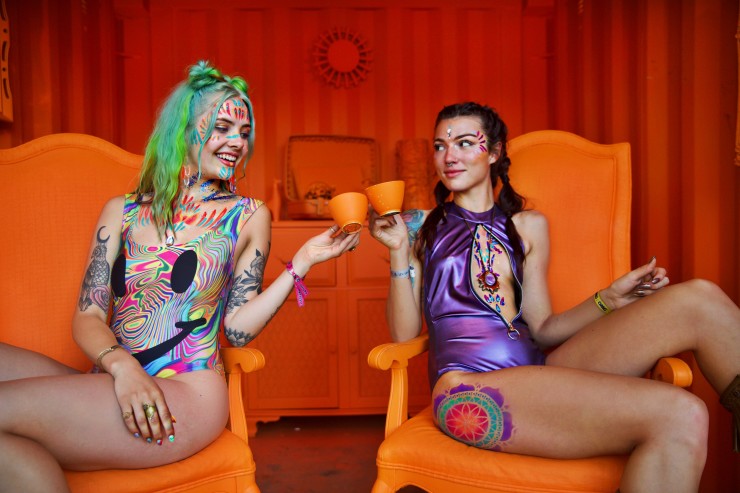 Another great way to stay clear headed at a festival is to mix it up a little bit and check out what other kinds of events are happening throughout the day. Most festivals and burns, big and small, have some kind of organized event guide accessible to attendees. Look deeper into the event schedule and you'll probably find interesting talks, interactive workshops, meditation circles, flow arts classes, yoga, and plenty of other activities to give your mind and body a break from day drinking at camp and dancing. Organized events like these are low commitment ways to try something new, learn a new skill, and make new friends while also re-charging your mind. Exploring this side of a festival is a great way to connect with the community as well. Attending a talk or a round table discussion usually has the added benefit of hanging out in the shade for an hour or so as well.
Big events with large crowds can be stressful and catch you off guard, even if you've been to the event before and think you're ready for it. Setting intentions before you go to a festival is a quick and simple way to stay in tune with yourself and have the experience that you want to have. Setting an intention to learn at an event and following through with that could provide a more meaningful experience and remind you to seek out new things to try, like workshops or talks. Writing down your intentions and checking in with them through out the event could help you get back on track if you find yourself feeling lost or overwhelmed by the experience.
Setting intentions can also help you identify your boundaries before going into an event. Spontaneity is the spice of life, even more so at festivals and burns, but it is still important to be in tune with your boundaries before going into an event where you may become overstimulated and have trouble making clear decisions.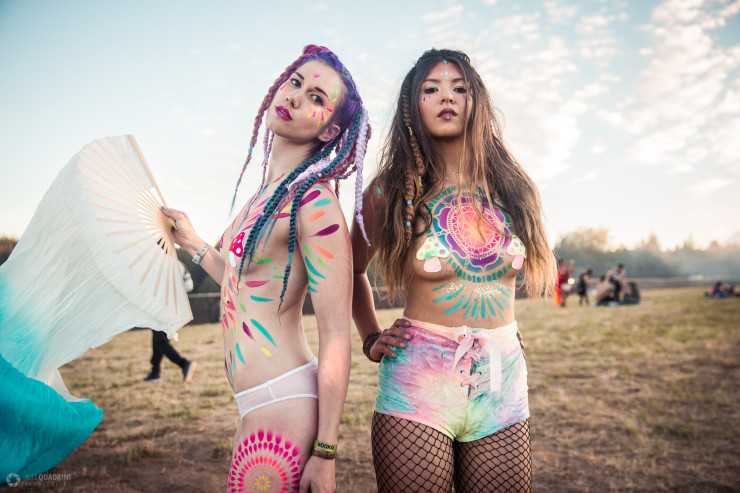 If you find that you're having a hard time at a festival and need people to talk to, more often than not there are resources available to help you. The Zendo Project, a harm reduction organization that has been setting up sites at more and more events, offers peer to peer counseling for people who are having overwhelming experiences and need a quiet place to process their feelings. DanceSafe, a public health organization with chapters across the country, can also be found at many events, marked by their bright yellow t-shirts and tents. DanceSafe tents are usually stocked with water, gatorade, and are a nonjudgemental, safe space for conversations about health, drug use, and personal safety at events.
You won't regret making the effort to keep your mind healthy at a festival. When you're clear headed and happy over the weekend, re-entry into the default world can be easier and you take home more than what you left with. Setting intentions to learn and grow at the event turns what would otherwise just be a raging party into a more transformative, meaningful, and fulfilling experience.

Photos by: @alexquadrinphoto
Body Paint by: @treesphinx
Location: What The Festival 2017, Oregon