A rolling field of yellow flowers bloomed under the 94 degree desert day. I checked the ground for snakes as I stepped through the sand. The flowers literally didn't stop until they hit the mountain base in the distance.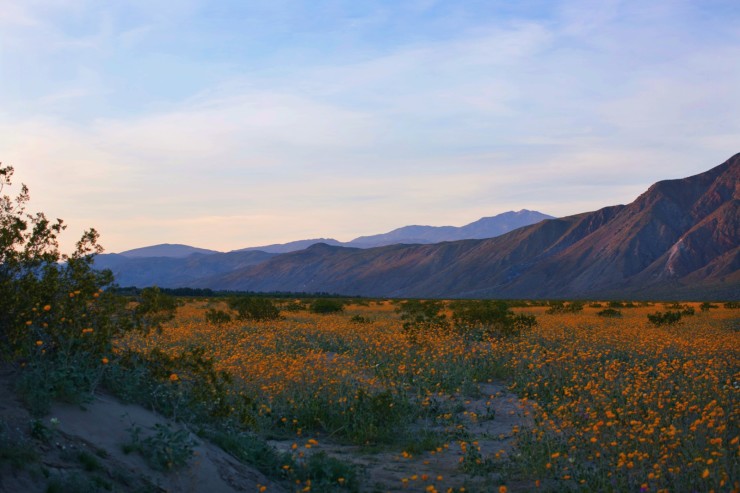 Photo by The Empress
California's largest state park is popping off with the rarest, most bountiful blooms in decades due to an unusually rainy winter. Naturally, we had to get out there and collaborate with nature.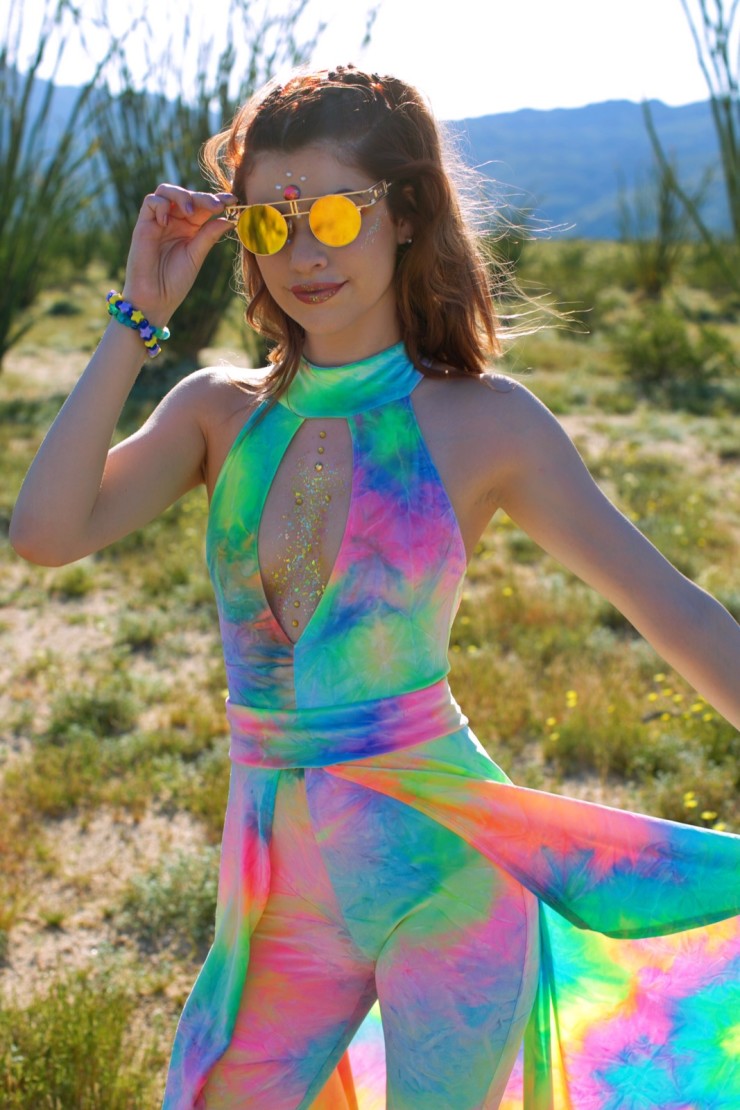 Photo by The Empress
"There are desert sunflowers and dune evening primrose, sand verbena, ghost flowers, monkey flowers and wild Canterbury bells. The ocotillo and beavertail cactus are beginning to bloom." --MANDALIT DEL BARCO, NPR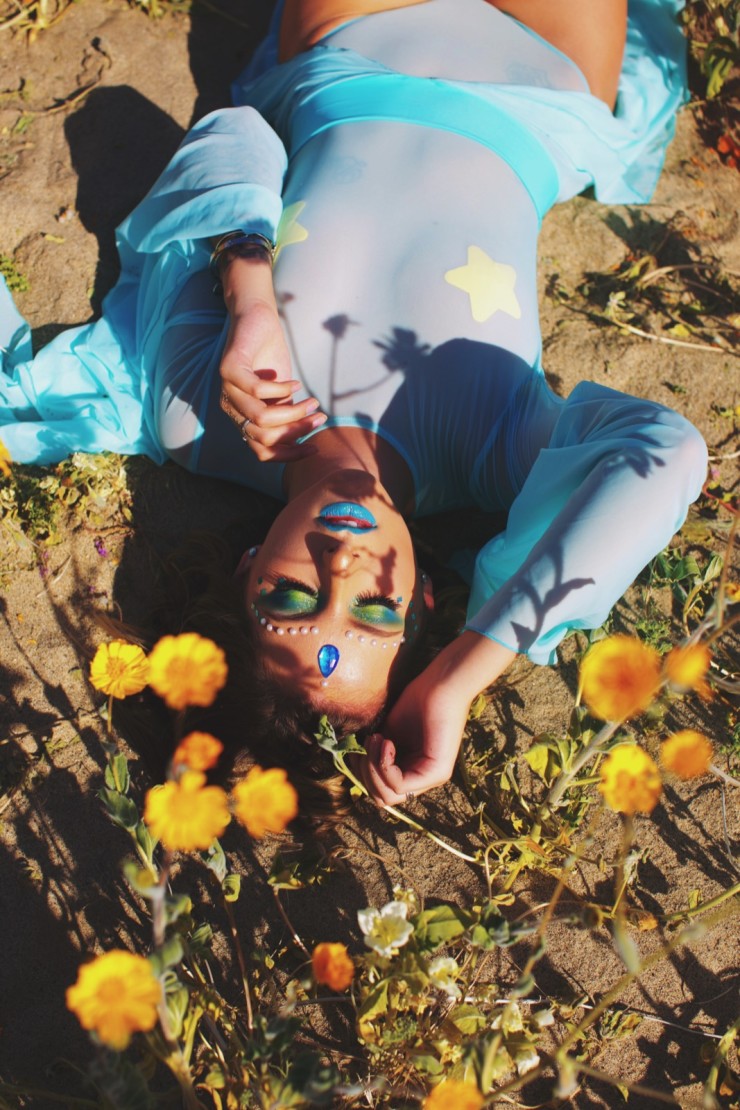 Photo by The Empress
Earlier that day, we loaded up a car caravan with a team of six models, two makeup artists, a videographer and a photographer. I loaded a cooler filled with ice, tons of water and some bubbly. None of us had visited this national park before.
Winding roads, gorgeous hills and a few tweaky looking Trump signs made our drive memorable.
Since none of us really knew where to shoot, we stopped by the visitor's center. The park ranger who greeted us was clearly fatigued from the influx of tourists. So many hopefuls were trying to catch the rarest desert bloom in decades before it faded as quickly as it bloomed, indefinitely. She didn't really want to have anything to do with us.
So we wandered off and found the rolling field of yellow flowers on our own.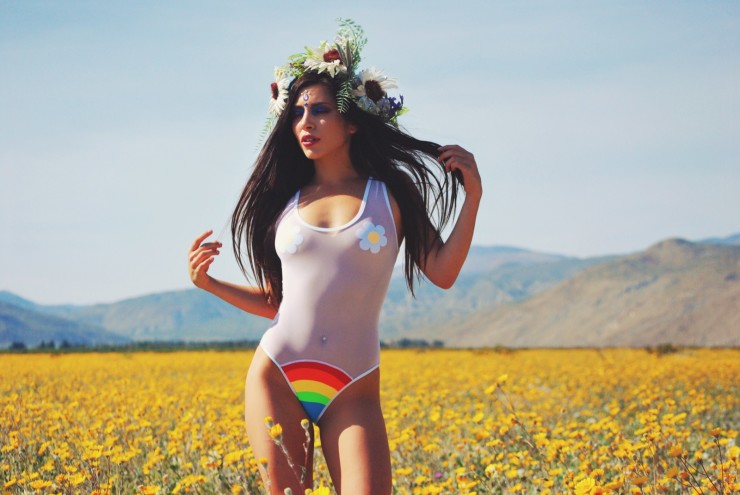 Photo by Julia Shapiro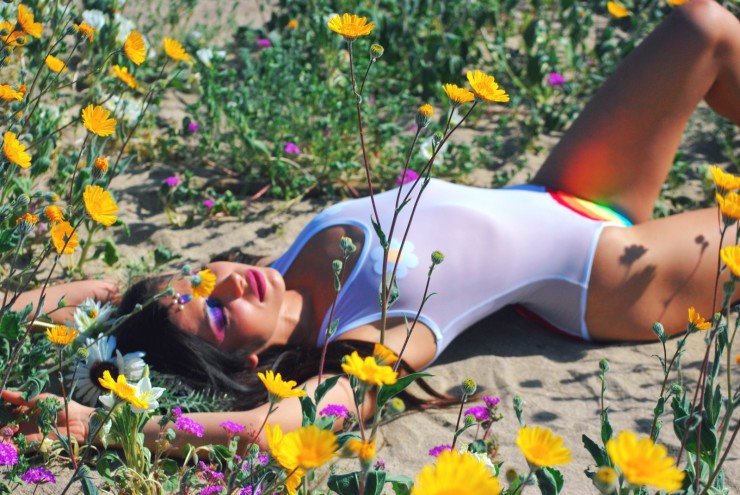 Photo by Adrienne Shon
The sun and sand were hot, but not scorching. It was an oasis teeming with life.
Photo by The Empress
Some curious mom and pop locals came over to talk to us and see what all the sparkle was about. So we asked them where we could find dope places to shoot. They were so kind and helpful and pointed us in the right direction.
Shop these looks @ Little Black Diamond >>
After the flower fields we headed back towards town to catch the octillios in bloom. Everything that sprawled before us had once been underwater tens of thousands of years ago.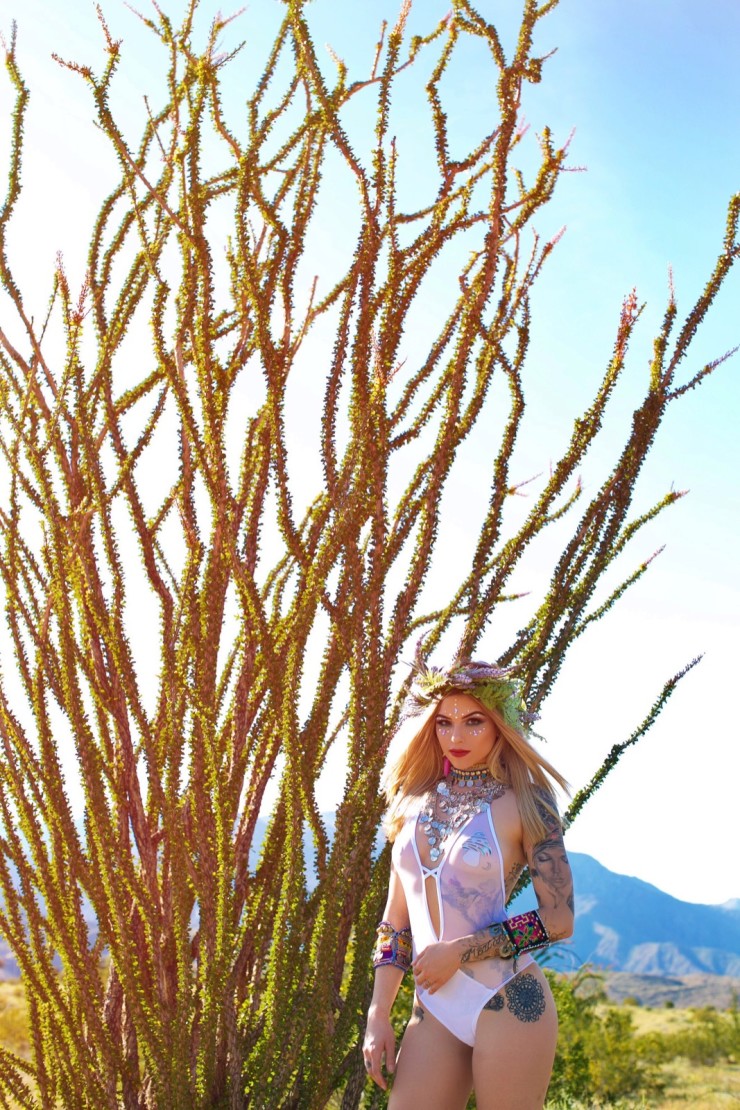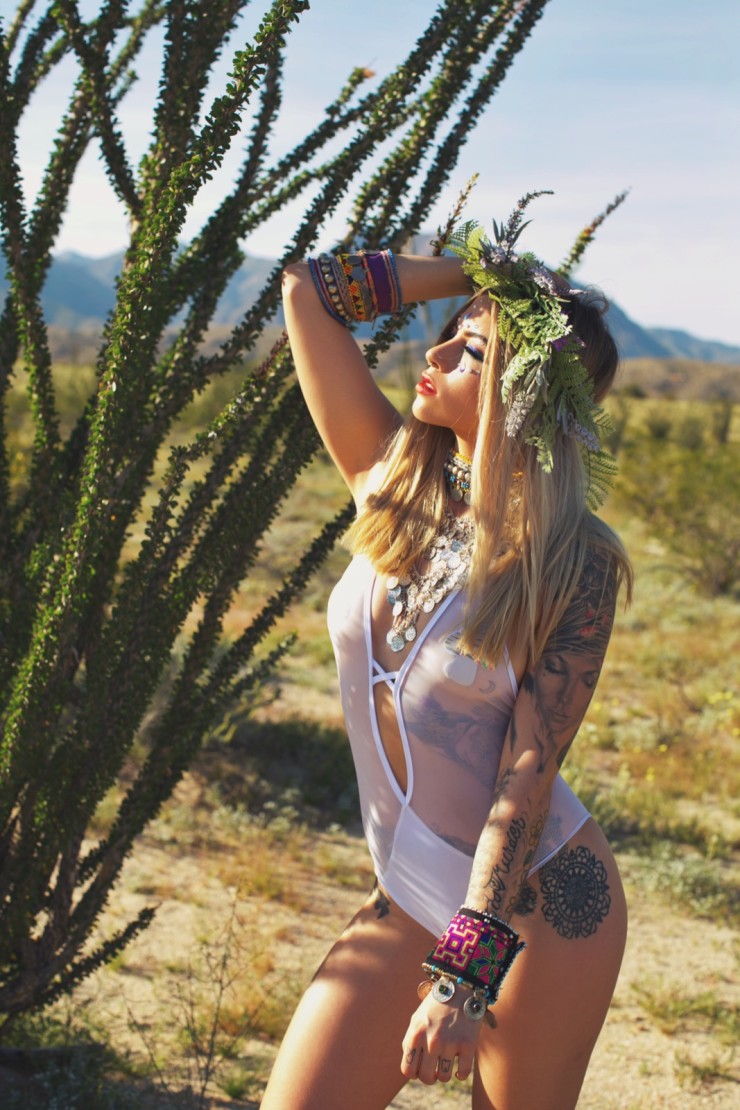 Photos by The Empress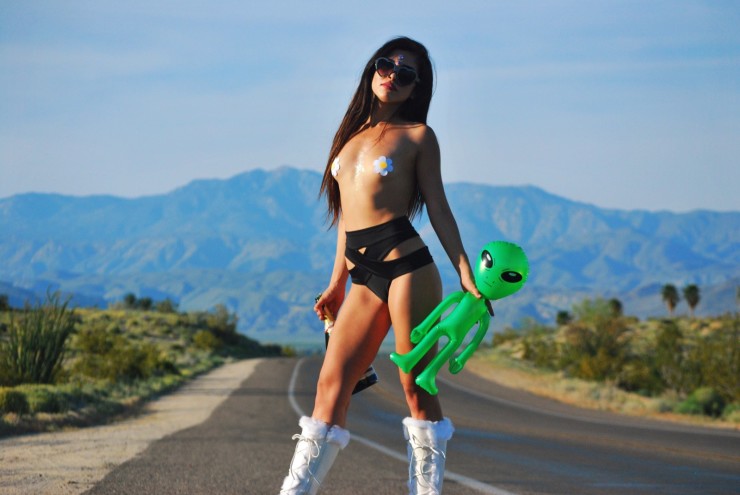 Photo by Julia Shapiro
We pulled over our car caravan and blasted bass music from the speakers while taking turns shooting photos, video and popping bubbly in between.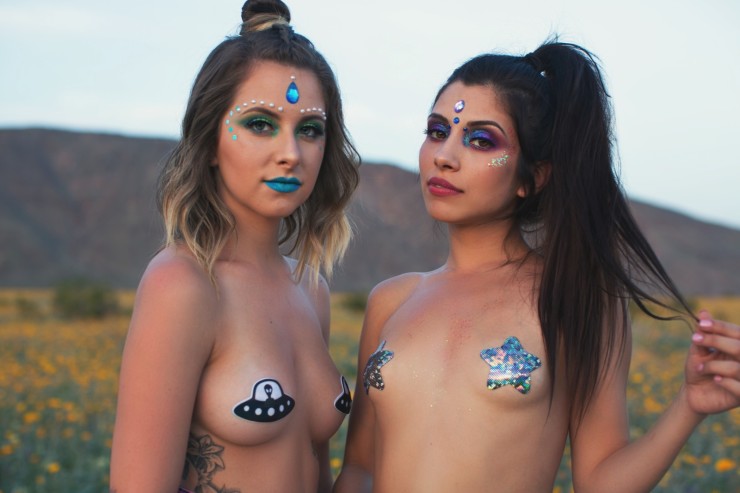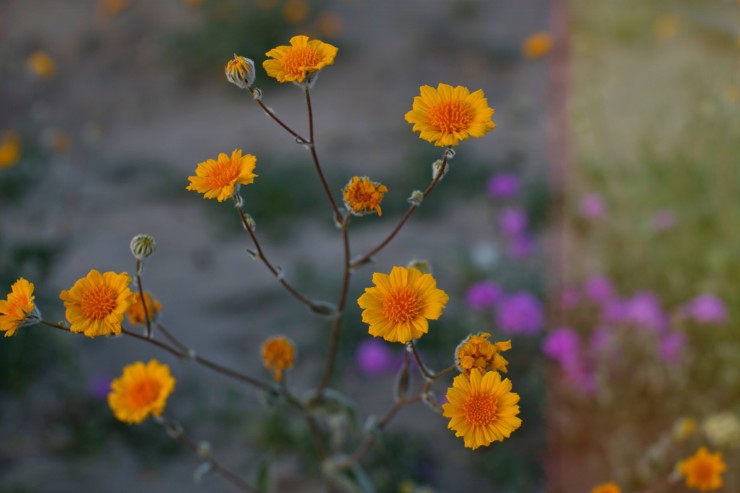 Photos by The Empress
As the sun gently folded its rays behind the mountain peaks, we packed up and rode off into the hot pink sunset. I reflected on how the rare blooms dazzled and inspired us. That sea of flowers, the ocotillo oasis--it all renewed my sense of hope. Reconnecting with nature is reconnecting with ourselves. It reminded me how we must always do our best to take care of the earth.
Get your glitter on and find cute pasties now @ Little Black Diamond.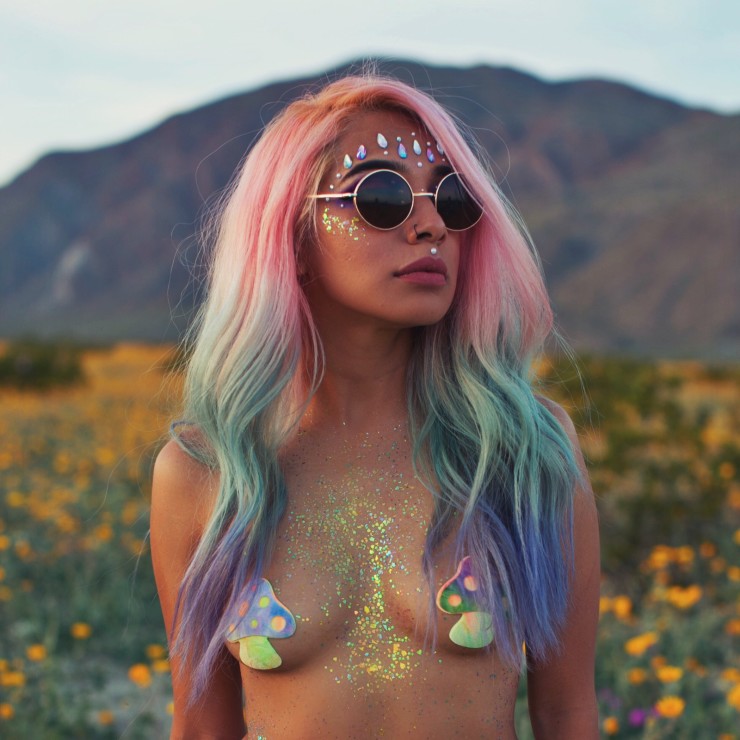 Photo by The Empress